Beijing selects new central bank head
OLD HAND: At 70 years old, outgoing People's Bank Governor Zhou Xiaochuan is well beyond retirement age, but was likely kept on to project stability during Xi's first term
A US-trained economist was yesterday appointed to succeed the longtime People's Bank of China governor Zhou Xiaochuan (周小川), at a time when the Chinese Communist Party (CCP) is trying to reduce financial risks and surging debt.
The elevation of Yi Gang (易綱), a two-decade veteran of the central bank, to head the Chinese central bank was in a slate of promotions of finance and economic officials approved by the Chinese National People's Congress as President Xi Jinping (習近平) tightens control over government.
Also yesterday, the congress endorsed the appointment of Chinese National Development and Reform Commission (NDRC) Vice Chairman Liu He (劉鶴), Xi's economic adviser, to a post as vice premier, where he is expected to oversee economic reform.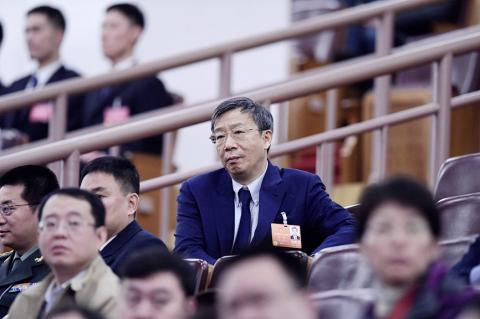 Then-People's Bank of China deputy governor Yi Gang, is seen as he is nominated as governor by the Chinese National People's Congress in the Great Hall of the People in Beijing, China, yesterday.
Photo: AFP
The CCP is under pressure to control surging debt, defuse mounting trade tensions with Washington and Europe, and make the cooling, state-dominated economy more productive. It has promised to open more industries to private and foreign competition, but business groups and reform advocates have complained that Beijing is moving too slowly.
Yesterday's promotions give unusual prominence to US-trained figures. Yi received his doctorate in economics from the University of Illinois, while Liu has a master's degree in public administration from Harvard University's Kennedy School of Government.
At the central bank, Yi's potential tasks include making interest rates and the exchange rate of China's tightly controlled yuan more market-oriented and improving financial regulation, Macquarie Capital chief China economist Larry Hu said.
"China is facing new challenges and the room for growth is smaller," Hu said in a report. "Key is to unleash productivity by reforming the system, albeit containing risks in the process. It's much easier said than done."
The congress also endorsed the reappointment of NDRC Chairman He Lifeng (何立峰) and of Chinese Minister of Commerce Zhong Shan (鐘山) to second terms, and Liu Kun (劉昆) was named Chinese minister of finance.
Yi, 60, is well known to foreign investors and regulators as director of the Chinese State Administration of Foreign Exchange until 2016. He already was overseeing efforts to make the mechanism that sets the yuan's exchange rate more flexible.
Before joining the bank in 1997, Yi taught at Indiana University. He also has a degree in business administration from Hamline University in Minnesota.
"Highly regarded in the international circles and seen as a pragmatic reformist, Yi Gang's appointment is set to ensure policy continuity and a smooth transition," Mizuho Bank said in a report.
Zhou, who is retiring after a record 15 years in the post, is the most prominent Chinese figure in global finance. At 70, he is well beyond official retirement age, but stayed on following the 2012 handover of power to a new generation of leaders under Xi in what was seen as an effort to reassure companies and financial markets of stability.
China's surging debt prompted international ratings agencies to cut its credit rating last year. The ruling party has declared controlling financial risk a priority this year.
Zhou in October warned that rising debt could have a "severe impact" on the economy, but last week said that regulators believed they had debt under control.
The bank governor's formal powers are limited despite the post's high profile. Unlike central banks of other major economies, the bank does not make monetary policy. Instead, its mission is to carry out policy made by an official body, the identity of whose members is secret.
The bank is widely seen as an advocate of conventional, market-oriented economics.
The bank "acts more like an advisor and operator, but not a maker, of monetary policy," Hu said.
Comments will be moderated. Keep comments relevant to the article. Remarks containing abusive and obscene language, personal attacks of any kind or promotion will be removed and the user banned. Final decision will be at the discretion of the Taipei Times.