INTERVIEW: Problems drive innovation, Dutch representative says
The Netherlands Trade and Investment Office (NTIO) has for decades devoted itself to boosting bilateral ties between Taiwanese and Dutch institutions in various fields, from agriculture to renewable energy. NTIO Representative Guy Wittich discussed how the Netherlands is moving toward a circular economy and strengthening its relations with Taiwan in an interview with 'Taipei Times' staff reporter Kuo Chia-erh in Taipei on Jan. 17
Taipei Times (TT): How is the Netherlands turning circular economy from a nice idea into reality?
Guy Wittich: The Dutch government has introduced a nationwide program with the goal of reaching a full circular economy in 2050. We hope to reduce the consumption of primary raw materials by 50 percent in 2030 and then eventually by 100 percent in 2050.
In January, the Netherlands launched a more detailed "transition" agenda for five major platforms that the government, academia and industries can work together on: food, construction, plastics, consumer goods and manufacturing. A lot is actually already happening in those areas.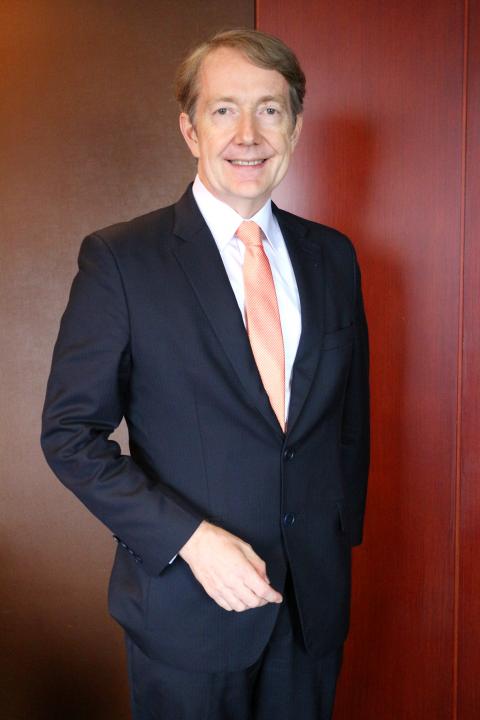 Netherlands Trade and Investment Office (NTIO) Representative Guy Wittich attends a news conference on Jan 17.
Photo courtesy of NTIO
I think the idea of a circular economy should start with what people are already doing. "Transition" industry is an emerging industry in which you can see opportunities across all the economic sectors in society. It is necessary to identify the players in related sectors and implement a carrot-and-stick policy, taking into account both incentives and principles.
For instance, the government can require that 80 percent of building materials can be recycled when issuing public tenders on specific projects. That will make people think about how to dismantle and reuse materials before they begin constructing buildings.
TT: What, in your opinion, is the driving force for innovation?
Guy Wittich: The main driving force for innovation is to find solutions to problems, such as solving food scarcity and pollution. Innovation also translates into a big motivation for young talents to develop their businesses or make contributions to the economy.
Taking Eindhoven for example, the Dutch high-tech hub is open to all kinds of companies from other parts of the world. Eindhoven produced more than 22 patents for every 10,000 residents, making it one of the world's most inventive cities. To pursue innovation, you have to change both consumer mentality and industry mentality, encouraging more people to adopt new business models.
Innovation is not just about solving problems, but also about jobs. The idea of circular economy will create at least 50,000 new jobs and extra economic value of about 7 billion euro (US$8.61 billion) every year in the Netherlands. In my opinion, going beyond the frontier to create new opportunities is the only way to sustain economic growth.
TT: How would you describe the ties between the Netherlands and Taiwan?
Guy Wittich: For now, the Netherlands ranks the second-largest European trading partner of Taiwan, behind only Germany.
We have been doing businesses in Taiwan for almost 400 years. The Vereenigde Oost-Indische Compagnie [VOC; Dutch United East India Company] spent 38 years in Taiwan from 1624 to 1662. In the 17th century, Tainan was an important harbor in the VOC's trading network, serving as Asia's second-largest trading port.
The second big revival of the trade between Taiwan and the Netherlands is in the 1960s when Royal Philips Electronics NV came and set up a factory in Taiwan.
Interestingly, if you trace back the history of Taiwan's economy, you will find that the development of chip manufacturing and high-tech industry are closely related to some Dutch companies.
For example, Philips was a founding investor of Taiwan Semiconductor Manufacturing Co (TSMC, 台積電), while ASML Holding NV, a major equipment supplier to TSMC, is actually a spin-off from Philips.
Apart from high-tech companies, agriculture and machinery industries also contribute a lot to the Netherlands' export value to Taiwan. The country ranks as the world's second-largest agricultural exporter in terms of value, despite a lack of natural resources.
We have very high productivity in the sector, given considerable experience developing fresh food packaging technologies and building greenhouses.
TT: What role does NTIO play in relations between the Netherlands and Taiwan? Are there any ongoing projects to strengthen ties?
Guy Wittich: We are playing a bridging role between the two economies. Taking agriculture for example, we introduce Dutch experts of seeds and hold match-making events for Dutch companies. We also participate in many trade fairs in Taiwan.
We are also focusing on start-ups in recent years. Our government has an organization, StartupDelta, to support start-ups worldwide. That is not just to provide financial support, but also to help those start-ups find their access to overseas markets.
This year, we will have a major start-up event at Computex Taipei. Our government sees Computex as one of the most important platforms for Dutch companies to explore business opportunities.
I would like to talk about new energy as well. Many European countries have been involved in offshore wind farms in the northern sea, including the Netherlands.
There are also some ongoing projects between Dutch and Taiwanese firms. For instance, Royal IHC has collaborations with Century Iron & Steel Industrial Co (世紀鋼構) and China Steel Corp (中鋼) for the development of wind farms.
Another point to mention is collaborations between cities. Taichung City, which is to host the World Floral Exposition this year, has signed a memorandum of understanding with Almere to share their experiences in the latest agricultural technologies and floral industry.
Almere, a new city based on new land near Amsterdam, has huge opportunities to start from scratch and to introduce new ideas. As a growing "green" city, it is known for its underground tunnels for household waste and "green" buildings.
Comments will be moderated. Keep comments relevant to the article. Remarks containing abusive and obscene language, personal attacks of any kind or promotion will be removed and the user banned. Final decision will be at the discretion of the Taipei Times.