Ministry defends new coal-fired plant
MARGIN CALL: The nation's electricity reserve margin would fall further from this year's 7.1 percent if new-generation capacity is not brought online, the economy ministry said
The government would not be able to reach the power reserve margin target it set for 2025 if fails to commence operations at the coal-fired Shenao Power Plant (深澳電廠) as scheduled, the Ministry of Economic Affairs said yesterday.
The nation is likely to see a power shortfall by 2025, as the reserve margin is expected to decline 1.4 percent if the plant does not come online in July that year, the ministry said in a statement.
The government aims to improve the margin to 15 percent after next year from 7.1 percent this year by accelerating construction of several power plant projects, including expanding the Shenao plant in New Taipei City's Rueifang District (瑞芳).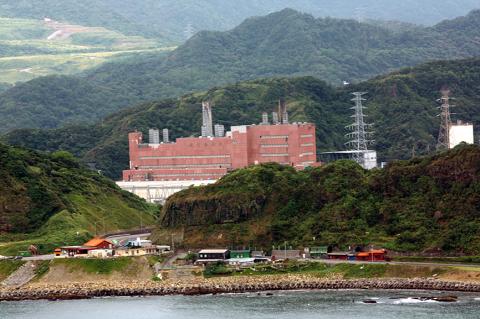 A photograph provided by a local resident shows Taiwan Power Co's coal-fired Shenao Power Plant in New Taipei City's Rueifang District on Thursday.
Photo: CNA
Upgrading the plant would ensure a stable power supply and improve energy efficiency, the ministry said, adding that the facility's lower heating value — its efficiency taking into account the energy lost as water evaporates during combustion — is forecast to grow to 45 percent from 38 percent after the upgrades are completed.
Upgrades at the coal-fired Linkou Power Plant (林口發電廠) in New Taipei City are finished, the ministry said, adding that it would strike a balance between efficiency and environmental protection when upgrading the Shenao plant.
With more advanced equipment, the facility would be capable of reducing sulfur oxide and nitric oxide emissions, it added.
The ministry's remarks came after the plant on Wednesday passed an environmental impact assessment, triggering renewed criticism over worsening air quality in northern Taiwan.
Environmental groups consider the Shenao plant upgrade to constitute a new project, as the original facility was mothballed in 2007 before being demolished in 2011, local Chinese-language media reported.
The government should invest more resources in the development of renewable energy resources, instead of generating coal-based energy, environmental groups have said.
The ministry said it assessed the possibility of replacing coal with natural gas at the Shenao plant, but the site does not have the space required to store the fuel.
Despite the government's goal of generating 20 percent of the nation's electricity from renewable sources by 2025, the ministry said it is still necessary to partly rely on coal-generated energy to ensure a stable energy supply.
Taiwan, an energy-dependent nation that imports nearly 98 percent of its fuel, is susceptible to fluctuations in global energy prices, the ministry said.
Coal-generated energy is seen as a more stable energy resource compared with renewable sources, as coal can be stored for 30 days, it added.
Comments will be moderated. Keep comments relevant to the article. Remarks containing abusive and obscene language, personal attacks of any kind or promotion will be removed and the user banned. Final decision will be at the discretion of the Taipei Times.