Renault reports 'exceptional results'
French carmaker Renault SA said on Friday it made record profits and sales last year, leading the board to give CEO Carlos Ghosn a new four-year term.
Renault's board cited the company's "exceptional results" in recommending that shareholders renew Ghosn's term after his mandate expires in June.
Ghosn has been the face and driving force for the alliance among Renault, Nissan Motor Co and Mitsubishi Motors Corp that claimed to be the world's biggest car-seller last year.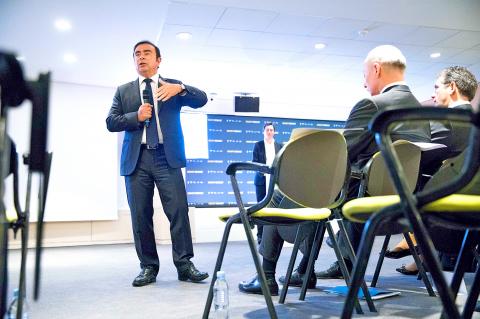 Renault SA chairman Carlos Ghosn, left, gestures as he speaks at a news conference in Paris on Friday to announce the automaker's full-year earnings.
Photo: Bloomberg
Renault confirmed to the AP comments by French Finance Minister Bruno Lemaire that Ghosn agreed to take a pay cut of 30 percent.
The French government owns a 15.1 percent stake in the car maker.
Renault said its revenue rose 15 percent to 58.7 billion euros, while net profit grew 47 percent to 5.2 billion euros, notably thanks to resurgent European demand.
Ghosn said he did not think Nissan's Japanese management would agree to French government demands for a closer alliance with Nissan.
He named Thierry Bollore in a new deputy post, seen as a potential successor. Ghosn, 63, has headed Renault since 2005.
Renault sold nearly 3.76 million cars last year, a rise of 8.5 percent on the year.
Separately, German automaker Volkswagen AG said on Friday it had its best January sales on record, with a 10 percent jump over a year ago thanks to rebounds in Brazil and Russia on top of a continuing strong performance in China.
Volkswagen said it sold 898,700 cars in the month, compared with 816,100 in January last year.
Sales in China, the company's single biggest market, rose 16 percent to 398,600. The smaller Brazilian market rose 45 percent, while Russia was up 21 percent.
The Wolfsburg-based carmaker continues to move past its 2015 scandal over diesels rigged to cheat on emissions tests. The core Volkswagen brand saw a 7 percent global increase, while luxury division Audi sold 20 percent more cars.
Other brands include Porsche, SEAT and Skoda as well as truck makers MAN and Scania.
Comments will be moderated. Keep comments relevant to the article. Remarks containing abusive and obscene language, personal attacks of any kind or promotion will be removed and the user banned. Final decision will be at the discretion of the Taipei Times.