H&M to shutter more stores as it shifts strategy
DIGITAL WORLD: The store closures means the Swedish fashion giant's net shop additions this year would drop to 220, the lowest level since 2010
The number of store closures by Hennes & Mauritz AB (H&M) will surge to the highest level in at least two decades this year as the Swedish fashion giant tries to adapt to a new digital world where customers abandon physical stores and increasingly shop online.
This year, the clothing retailer expects to close 170 shops and open a total of 390 new ones, the biggest number of store closures since at least 1998.
That is equivalent to a ratio between closures and new stores of 44 percent, meaning H&M will close 44 stores for every 100 it opens. Last year, that ratio was just 19 percent.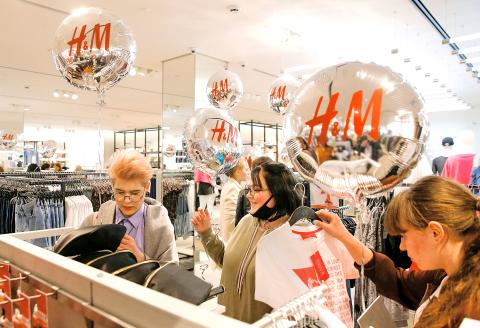 People shop at the Swedish fashion retailer Hennes & Mauritz store on its opening day in Moscow, Russia, on May 27 last year.
Photo: Reuters
From 1999 to last year, the average was only 12 percent.
The store closures mean H&M's net shop additions would drop to 220 this year, the lowest level since 2010.
The pace of store growth would slow to just 4.6 percent this year, from an average of 12 percent between 1999 and last year.
Investors earlier on Wednesday gave a thumbs-down to H&M's turnaround plan that included the store closures and the creation of a new brand to sell marked-down clothing.
H&M shares slumped as much as 9.9 percent in Stockholm after the release of the earnings figures.
The company said its profits declined 33 percent in the fourth quarter to 3.99 billion kronor (US$506 million), with sales dropping 2 percent to 50.4 million kronor.
It said "the industry changes are challenging everyone and this will continue in 2018."
Chief executive officer Karl-Johan Persson said that the digitalization of shopping "is driving the need to transform and re-think faster and faster."
He said the group's performance was "clearly below our expectations."
Sales were weak at the physical stores, where "the changes in customer behavior are being felt most strongly and footfall has reduced with more sales online," Persson said.
Additional reporting by AP
Comments will be moderated. Keep comments relevant to the article. Remarks containing abusive and obscene language, personal attacks of any kind or promotion will be removed and the user banned. Final decision will be at the discretion of the Taipei Times.