Retailers, consumer goods firms rise as US markets recover
Retailers and consumer goods companies on Friday led US stock indices mostly higher in afternoon trading as the market recouped some of its modest losses from a day earlier.
Energy companies were the biggest laggard as the price of crude oil declined, while bond yields were hovering near their highest level in more than three years.
Investors were monitoring developments in Washington ahead of a possible federal government shutdown this weekend.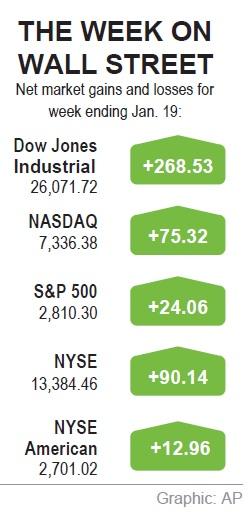 The S&P 500 on Friday rose 12.27 points, or 0.4 percent, to 2,810.30, rising 0.9 percent from a close of 2,786.24 on Jan. 12.
The Dow Jones Industrial Average on Friday rose 53.91 points, or 0.2 percent, to 26,071.72, an increase of 1 percent from 25,803.19 a week earlier.
The NASDAQ on Friday added 40.33 points, or 0.6 percent, to 7,336.38, up 1 percent from 7,261.06 on Jan. 12.
The Russell 2000 index of smaller-company stocks picked up 20.90 points, or 1.3 percent, to 1,597.63, rising 0.7 percent from 1,587.12 a week earlier.
The US House of Representatives on Thursday voted for a stopgap funding bill to keep agency doors open and federal workers at their jobs until the middle of next month, but US Senate Democrats and some Republicans blocked it on Friday.
A shutdown could hurt consumer spending and rattle markets, although it is unlikely to cause widespread economic damage, Credit Suisse economists said in a note on Thursday.
"We expect the market to move past it and not to be too caught off guard if that were to happen," JP Morgan Private Bank global investment specialist Jeramey Lynch said, adding that any federal government shutdown would be brief and cause relatively little disruption, similar to past shutdowns.
Bond prices were little changed. The yield on the 10-year US Treasury held at 2.63 percent after briefly rising to its highest level since September 2014.
Investors bid up shares in retailers, cruise lines and other consumer-focused companies. Hanesbrands Inc led the pack, climbing US$1.09, or 5 percent, to US$23.09.
Tobacco companies, beverage makers and other consumer products stocks rose. Altria Group Inc gained US$0.86, or 1.2 percent, to US$70.89. Philip Morris International Inc picked up US$3.40, or 3.2 percent, to US$108.47.
Lowe's Companies Inc rose 2.9 percent after the home improvement supply retailer named three new directors. The stock added US$2.90 to US$104.26.
Amazon.com Inc traded higher after the e-commerce giant said it would raise the price of its Prime membership monthly plan by nearly 20 percent. Starting on Friday, new monthly members would pay US$12.99 per month, up from US$10.99. The stock picked up US$8.26 to US$1,301.58.
International Business Machines Corp slumped 4.3 percent, despite a solid fourth-quarter report. The technology and consulting company was the biggest decliner in the Dow. The stock fell US$7.25 to US$161.87.
American Express Co fell 2.9 percent after the credit card issuer suspended its share buyback program for six months following a big one-time tax charge. The stock shed US$2.87 to US$96.99.
Comments will be moderated. Keep comments relevant to the article. Remarks containing abusive and obscene language, personal attacks of any kind or promotion will be removed and the user banned. Final decision will be at the discretion of the Taipei Times.