TSMC posts record-high annual profits
ROSY PROSPECTS: The chipmaker expects to see another 10% to 15% rise in revenue this year, backed by growth in high-performance computing, IoT and automotive chips
Taiwan Semiconductor Manufacturing Co (TSMC, 台積電), the world's largest contract chipmaker, yesterday posted a record-breaking net profit of NT$343.11 billion (US$11.61 billion) for last year, benefiting from robust chip demand for smartphones and cryptocurrency mining machines.
That represented an annual growth of 2.65 percent from NT$334.25 billion in 2016, according to the chipmaker's financial statement. Earnings per share rose to NT$13.23 from NT$12.89.
While the pace of growth decelerated from 2016's 10 percent increase, the chipmaker expects the growth momentum to carry on this year.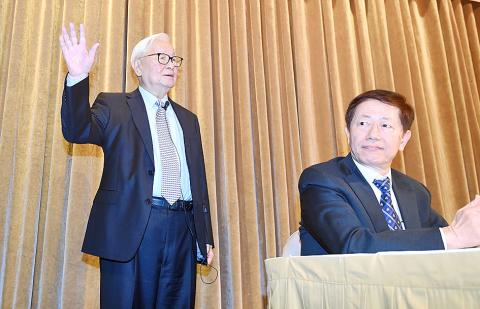 Taiwan Semiconductor Manufacturing Co cochief executive Mark Liu looks on as chairman Morris Chang waves at the company's quarterly earnings conference in Taipei yesterday.
Photo: Liao Chen-huei, Taipei Times
This year will be "an above-average year," TSMC founder and chairman Morris Chang (張忠謀) told investors at his last appearance at the company's quarterly earnings conference.
Chang is set to retire this summer.
Revenue growth would accelerate to between 10 and 15 percent this year in US dollar terms, following a 9 percent increase last year, Chang said.
That would be faster than the company's five-year target of compound annual growth of between 5 and 10 percent from last year to 2021.
Chang said he expects growth to be fueled by three of the firm's growth platforms: high-performance computing (HPC), Internet of Things and automotive.
Replacing mobile phone chips, "HPC chips will grow the strongest due to continuing expansion of AI [artificial intelligence] applications in all electronic devices, as well as continuing demand for cryptocurrency GPU [graphics processor unit] and etc," Chang said in English.
"The urge to mine cryptocurrency is very strong. The [cryptocurrency] price is very volatile, but the demand since the last year has been very strong. We expect it will continue to be strong," he said.
"However, we will size the demand carefully," he added.
Mobile phone chips, the biggest revenue contributor to TSMC, would see little growth this year, he predicted.
Based on Chang's growth projection, TSMC would again outperform the global semiconductor industry's projected annual growth of between 6 and 8 percent, and the foundry sector's annual growth of between 9 and 10 percent this year.
However, due to the smartphone industry's slow-season effect, TSMC expects revenue to shrink by 8.3 percent sequentially this quarter to between US$8.4 billion and US$8.5 billion.
Gross margin is expected to reach between 49.5 percent and 51 percent this quarter, compared with 50 percent last quarter, TSMC said.
The company's net profit dropped 0.9 percent to NT$99.29 billion in the final quarter of last year, compared with a record-high NT$100.2 billion in the fourth quarter of 2016.
The company attributed the contraction to a 1.5 percent appreciation of the New Taiwan dollar against the US dollar.
On a quarterly basis, net profit increased 10.4 percent from NT$89.93 billion, the company's financial statement showed.
To support the company's growth and customer demand, TSMC plans to spend between US$10.5 billion and US$11 billion this year, mainly on new equipment for 7-nanometer manufacturing and developing 5-nanometer technology.
TSMC is on track to start mass production of its 7-nanometer chips — mostly for smartphones and AI applications — next quarter, TSMC cochief executive C.C. Wei (魏哲家) told the conference.
The 7-nanometer chips are to account for 10 percent of the company's total revenue this year, Wei said.
Comments will be moderated. Keep comments relevant to the article. Remarks containing abusive and obscene language, personal attacks of any kind or promotion will be removed and the user banned. Final decision will be at the discretion of the Taipei Times.