Organic Champagne making a slow fizz into glasses
A bubble it is not: The organic movement is only slowly taking root in France's Champagne region, although its proponents believe environmentally friendly techniques can help the sparkling wine express even finer subtleties.
Organic farming has experienced a boom in recent years, in France, too, where the wine industry has been keen to adopt practices that shun synthetic chemicals and fertilizers.
If 5 percent of all agricultural land in France was being organically farmed or in the process of conversion in 2015, the figure was 8.7 percent for the wine sector, according to data from the public-private agency that promotes "green" farming in France.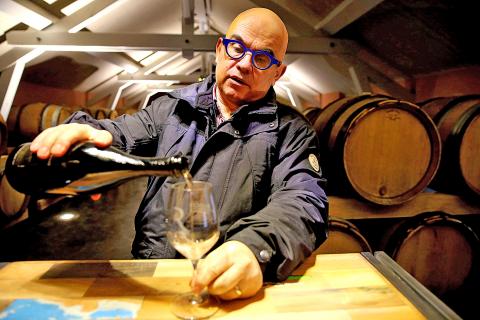 Organic winemaker Eric Rodez pours some of his vintage Champagne into a glass in the vat room of his Champagne house in Ambonnay, France, on Dec. 20 last year.
Photo: AFP
However, there are regional disparities, and the Champagne region is trailing with just 1.9 percent under organic production, even if the amount of land there carrying an "Agence Bio" (AB) certification increased by 14 percent between 2015 and last year.
Organic farming is not for those looking to make a quick buck or jump on the latest bandwagon.
"If you're just looking to put a pretty seal on your label, you'll be disappointed very quickly," said Pascal Doquet, president of the association of organic Champagnes.
Doquet said he spent "six years between the beginning of the conversion process and the first sale of bottles" bearing the AB seal.
The slow maturation of Champagne, an element of its quality and the cachet which allows the wines to command premium prices, is a disadvantage when going green.
Converting the land to organic farming is a three-year process. Then, there is the requirement that Champagne must mature in bottles for at least 15 months, with many makers leaving it even longer.
Another crucial element is climate, which needs to be cool with little sunshine to help the grapes mature slowly. Dampness is also a challenge, especially as organic farming sharply limits which treatments can be used.
For many practitioners, organic is as much a philosophy as a process.
Doquet said he has had to become a "real farmer," cultivating the vine's "capacity for resistance," while other winemakers were mere "technicians."
The respect for the environment that underpins the organic movement's philosophy fits in with the French concept of terroir, where soil, topography and climate all combine to influence the taste of the wine.
Less invasive farming techniques can therefore help produce wines that better reflect the nuances of their environment, or "make the terroir sing," as Eric Rodez, head of a family winery at Ambonnay in the Marne Valley, puts it.
It was a much more "demanding" way of wine-making, "living life by the rhythm of nature, not the clock of the world," he says.
However, his family winery, which consists of 6 hectares and produces about 50,000 bottles per year, now produced "liberated wines" with more "expressive" scents and flavors, Rodez says.
The idea has caught the attention of at least one of the leading Champagne houses — Louis Roederer Champagne.
Unusual among large houses in that it grows its own grapes, 10 of Louis Roederer's 240 hectares are certified as organic, and it plans to gradually convert all of its land.
"For me, organic is an obvious choice, because it is the terroir that makes wines unique," house cellar master Jean-Baptiste Lecaillon said. "That uniqueness can't come from a massive blanket of chemicals that neutralize flavors."
Even if the Champagne region does not yet embrace organic farming widely, it has been reducing its use of chemicals. Over the past 15 years, the region has cut the use of nitrogen fertilizers and pesticides by half, according to the Comite Champagne, the trade association for the 300 Champagne houses and 15,000 winemakers.
And in 2014, it launched its own certification of "sustainable viticulture," specially tailored to the Champagne region.
So far, more than 4,000 hectares out of the region's 34,000 hectares have received the certification.
Nevertheless, few of the big Champagne houses appear to be in any rush to go organic.
Lecaillon said those who did must be ready to accept that "in certain years, they could lose 10, 20 or even 30 percent of the harvest," without the help of chemical fertilisers and treatments.
But it's not just a question of "economic short-termism" that is preventing Champagne houses from going green, Lecaillon said.
Since most large Champagne houses buy much of their grapes from growers, those growers would be required to go organic too.
Consumers, too, have little leverage to pressure producers into going green, because organic Champagnes are still a niche market and are rarely seen on supermarket shelves.
Comments will be moderated. Keep comments relevant to the article. Remarks containing abusive and obscene language, personal attacks of any kind or promotion will be removed and the user banned. Final decision will be at the discretion of the Taipei Times.