Red envelope feature added to M+ app
GAME-LIKE: The M+ app allows users to fill red envelopes and hold prize drawings in group chats, which drew excited participation among employees during internal testing
Taipei Fubon Commercial Bank (台北富邦銀行) and Taiwan Mobile Co (台灣大哥大) yesterday introduced a digital red envelope feature to the M+ Messenger app, marking a first for the local market.
The new feature expands the app's peer-to-peer payment functions and lets users send cash gifts to a single or multiple recipients, the companies said.
The transactions are limited to NT$50,000 each or a total of NT$100,000 daily, they added.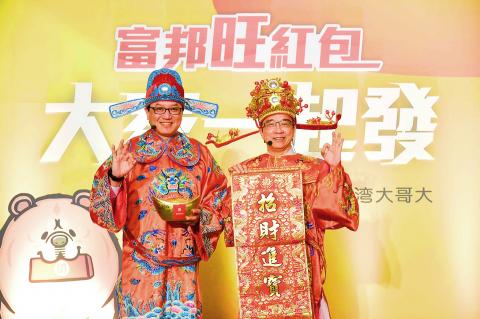 Fubon president Roman Cheng, left, and Taiwan Mobile president James Jeng dress up as the god of prosperity at a news conference held yesterday to announce the new digital red envelope feature on the M+ Messenger app.
Photo: Wang Yi-hung, Taipei Times
Digital red envelopes have over the past few years gained popularity in China, Fubon president Roman Cheng (程耀輝) said, adding that M+ has enhanced security, as users must register their identity and account at the lender.
Similar to its Chinese counterparts, M+ allows users to divide a lump sum into red envelopes to hold sweepstakes and prize drawings in group chats, with the app randomly assigning the amount in each envelope for each recipient.
These game-like features drew an exciting level of participation among employees during internal testing, as responsiveness to group chat messages surged whenever red envelopes were posted, Cheng said.
More than 80,000 red envelopes have been sent since internal testing began on Friday last week, he said.
To cope with the massive number of red envelope micro-transactions, the lender is testing blockchain technology to reduce the strain on its processing systems, he said.
BLOCKCHAIN
"Currently, part of the transaction processing is conducted on our blockchain, as the decentralized and distributed ledger is able to record a large influx of red envelope transactions so that they can be processed in batches," Cheng added.
The system is expected to be migrated to blockchain technology at the beginning of next year, he said.
Regarding the messaging app's target market, Cheng said that M+ is the leading solution among local enterprises and that the app is also used by more than 50,000 consumers.
The bank's payroll transfer clients can easily be converted to M+, while Taiwan Mobile is to install kiosks at its service branches to entice new users, he said.
LINE PAY
In related news, Line Pay, the mobile payment service of Line Corp, operator of Taiwan's most popular messaging app, announced its plans to become the main shareholder of iPass Corp (一卡通票證).
The messaging giant is optimistic that iPass, which is the only local company with operating licenses for both electronic payments and electronic stored value cards, will play an integral part in the nation's market for cashless mobile payments, Line Pay said.
Government agencies and affiliates own 47.44 percent of iPass, including the National Development Fund, the Kaohsiung City Government and Kaohsiung Rapid Transit Corp.
Comments will be moderated. Keep comments relevant to the article. Remarks containing abusive and obscene language, personal attacks of any kind or promotion will be removed and the user banned. Final decision will be at the discretion of the Taipei Times.