Airbus, Bombardier to form partnership
In the face of a bitter trade dispute with Boeing Co, Airbus SE announced it would take a majority stake in Bombardier's marquee C-Series airliner program, as the Canadian firm battles a stiff tariff ruling in the US.
The landmark agreement comes after the US administration slapped a 220 percent countervailing duty, as well as an 80 percent anti-dumping tax, on Bombardier CS100 and CS300 aircraft imported into the US.
Boeing accuses Bombardier of manufacturing its 100-150 seat planes with public subsidies and selling them at a loss to Delta Air Lines, Inc.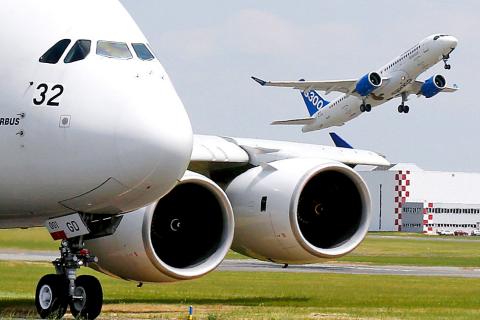 A Bombardier CS300, right, takes off to participate in a flying display as an Airbus A380, left, waits on the taxiway during the 51st Paris Air Show at the Paris-Le Bourget Airport in France on June 15, 2015.
Photo: Reuters
The agreement between Airbus and Bombardier aims to allow for significant production savings on the C-Series aircraft and to make use of Airbus's international reach for sales, the two groups said in a statement.
"It's a win-win deal for everyone," Airbus president Tom Enders said. "I have no doubt that our partnership with Bombardier will boost sales and the value of this program enormously."
A Boeing spokesman said that the deal represented "a questionable agreement between two competitors, both heavily dependent on state subsidies, to circumvent," recent US decisions on tariffs and anti-dumping taxes.
Airbus will take approximately 50.01 percent of the shares in CSALP, the entity which manages the C-Series program, with Bombardier and Investissement Quebec Inc holding 31 and 19 percent respectively.
The program's production headquarters will remain in Quebec, Canada.
"We are very happy to welcome Airbus to the C-Series program," Bombardier chief executive officer Alain Bellemare said. "Airbus is the perfect partner for us, Quebec and Canada."
A deal between the two companies had been mooted previously, but discussions stalled two years ago and the project was abandoned.
The C-Series is a state-of-the-art aircraft largely built from composite materials. It complements Airbus' medium-range carrier, the A320, which can carry some 140 passengers.
"The single aisle market is a key growth driver, representing 70 percent of the expected global future demand for aircraft," a Bombardier statement said. "Ranging from 100 to 150 seats, the C-Series is highly complementary to Airbus' existing single aisle aircraft portfolio, which focuses on the higher end of the single-aisle business [150-240 seats]."
British Secretary of State for Business, Energy and Industrial Strategy Greg Clark yesterday said he welcomed the deal for Airbus to buy a majority stake in Bombardier's C Series jetliner program.
Comments will be moderated. Keep comments relevant to the article. Remarks containing abusive and obscene language, personal attacks of any kind or promotion will be removed and the user banned. Final decision will be at the discretion of the Taipei Times.