Phison to incorporate AI in new drives
SMART AND SPEEDY: The technology would allow for faster data reading and writing speeds, as well as self-repair to extend the lifespan of its solid-state drives
Phison Electronics Corp (群聯電子), a designer of NAND flash memory controllers and modules, plans to launch its first controller that uses artificial intelligence (AI) for its next-generation solid-state drive (SSD) next year.
The Hsinchu-based company is joining the ranks of its global semiconductor peers in exploring AI business opportunities to embrace the arrival of the Internet of Things era and the challenge it poses of processing massive amounts of data.
"Nowadays, people receive tons of information from the Internet and social media, like Google or Facebook, that need to be sorted and analyzed, sometimes instantly," Phison founding chairman Pua Khein-seng (潘健成) said on Tuesday on the sidelines of a news conference for the launch of an AI and robotics lab in Hsinchu.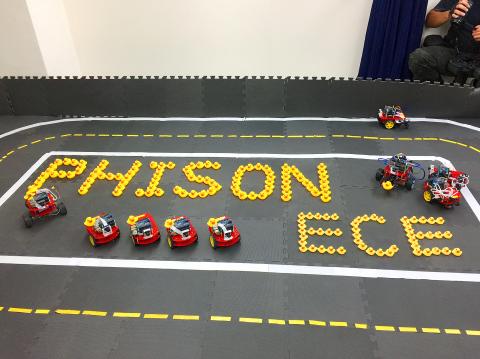 Robots move along designated routes without bumping into each other to demonstrate autonomous cars at the launch of an artificial intelligence lab organized by Phison Electronics Corp and National Chiao Tung University on Tuesday in Hsinchu.
Photo: Lisa Wang, Taipei Times
"We hope to incorporate AI technology into our products and use it to deal with the complicated job of big-data sorting and analysis. As data traffic is doubling every year, it is increasingly impossible for people's brains to do the job," Pua said.
Using AI and machine learning, the company aims to create more "smart" controllers that enable faster data reading and writing speeds than regular SSD controllers, in addition to fixing errors and lowering the error rate, Pua said.
The company has completed the design of it first SSD controller with AI and machine learning, it said, adding that it is set to enter mass production next year.
Since the company's establishment in 2000, Phison has focused on designing controllers, so it is short of AI engineers and experts to support the expansion, Pua said.
To fill the talent gap and enhance its technological capabilities, Phison is partnering with National Chiao Tung University to launch an AI lab that will develop cutting-edge technologies such as deep reinforcement learning for digital signal processors, he said.
The technology will help develop a new SSD controller that can enable self-repair, accelerate the drive's reading and writing speeds, and help extend the drive's lifetime, the company said.
The company has helped raise an initial NT$15 million (US$496,837) for the lab.
"Customer demand in the fourth quarter will be much stronger than in the third quarter. The fourth quarter is the peak season for mobile phone and consumer electronic devices," Pua said. "The only problem is whether we can source enough flash memory chips [to meet demand]... Supply looks very tight."
A notification from the world's major suppliers of NAND flash memory chips, including Samsung Electronics Co and SK Hynix Inc, that prices will be hiked from 15 to 22 percent for this quarter signals strong seasonality next quarter, Phison said.
Therefore, the company expects high demand that will help trigger a rebound in revenue and profit next quarter.
Phison's net profit for last month declined 17 percent to NT$503 million from NT$604 million in the same period last year, according to a company filing with the Taiwan Stock Exchange on Thursday.
However, cumulative net profit for the first two months of this quarter totaled NT$1.07 billion, up about 3 percent from NT$1.04 billion during the period last year, with earnings per share increasing to NT$5.45 from NT$5, the filing said.
Comments will be moderated. Keep comments relevant to the article. Remarks containing abusive and obscene language, personal attacks of any kind or promotion will be removed and the user banned. Final decision will be at the discretion of the Taipei Times.