One problem for Apple's iPhone is jaded Chinese consumers
Local smartphone brands are tailoring their devices to suit Chinese consumers' needs and releasing new products at much faster rates than the US-based tech giant
Apple Inc's new iPhones are expected to come with vibrant full-screen displays, wireless charging and other cutting-edge technology.
However, consumers in China can get those features on other devices already — and without the sticker shock.
Shoppers in the world's biggest mobile market are accustomed to getting the latest technology with their Huawei Technologies Co (華為), Oppo Mobile Telecommunications Corp (歐珀) and Xiaomi Corp (小米) handsets. That makes it harder for Apple to convince jaded customers that marrying such attributes with its own software is worth the much higher price tag.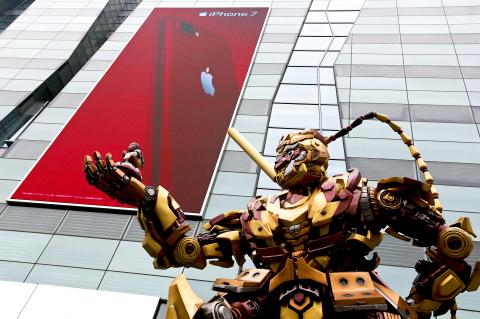 A giant robotic Monkey King sculpture stands in front of an advertisement for Apple Inc's iPhone 7 red edition outside a shopping mall in Beijing on Aug. 22.
Photo: AP
That is a problem for Apple in the market that matters most to the Cupertino, California-based giant beyond its home country. While it sticks to a global template that has served it well, local vendors have become adept at technology design while tailoring smartphones to local tastes, such as with dual SIM capability.
In a show of confidence, Huawei, Xiaomi and likely Vivo Communication Technology Co Ltd (維沃移動通信) — far from front-running or avoiding the iPhone the way movie studios juggle summer tentpoles — are tackling the US company head-on by timing new products around the publicity avalanche sure to engulf Apple's Tuesday launch.
After six straight quarters of falling sales in greater China and a share-price rally fueled by expectations for the 10th-anniversary device, the stakes are enormous.
"The challenge comes from Vivo, Oppo and Huawei, they can replace Apple in high-end markets priced around US$500, even as Apple remains dominant in the ultra high-end US$600-plus segment," said Kiranjeet Kaur, an analyst with industry consultancy IDC. "We don't expect big growth as China's market is now very saturated. The biggest demand for the new iPhone will come from the replacement market."
Apple has a lot riding on the biggest redesign of the iPhone in the post-Steve Jobs era, with its new flagship tipped to cost about US$1,000.
On Tuesday, it is to lift the lid on three new models of the device that ushered in the modern smartphone age, alongside a higher-powered Apple TV and a watch that can connect to LTE cellular data networks, Bloomberg has reported.
While users wait for the new hardware, Apple has previewed its iOS 11 operating system which has added features for Chinese users. That includes a photo app that allows scanning of the near-ubiquitous QR codes that drive the country's mobile payment systems, a keyboard that makes Chinese characters easier to input and a new mapping app that shows traffic camera locations.
The iPhone remains the world's best-selling smartphone model and continues to win praise for Apple's hallmark fusion of software and hardware.
Its iOS ecosystem has locked in millions who have built up valuable music and movie libraries. There is the possibility of a surprise killer feature beyond the usually well-telegraphed bells and whistles, and Apple's "best, not first" mindset has served it well in the past.
"Apple hasn't done a big design change since 2014, but Huawei and Vivo kept releasing new devices," Kaur said. "To many Chinese, having the latest iPhone is also a social status symbol."
Yet now more than ever, China boasts a coterie of technology champions that have already won over consumers, using not just tricked-out gadgets, but also faster product updates to push Apple to fifth place last quarter.
The company's combined revenue in Taiwan, Hong Kong and China fell 10 percent in the latest quarter — the only region to experience a year-on-year decline.
While revenue was little changed in China, Counterpoint Research has put the iPhone's share of the over-US$600 device market at 80 percent and sales are growing in urban areas.
Xiaomi, showing signs of bouncing back from its worst shipment declines in its seven-year history, is to unveil the Mi MIX 2 a day before Apple's event.
The new phone, a second-generation to a model developed with designer Philippe Starck featuring a ceramic body and bezelless screen, takes it deeper into Apple's high-end territory.
Huawei — a company that declared its intention of supplanting Apple and Samsung Electronics Co at the top of the mobile food chain — is to debut its full-screened Mate 10 next month.
The last iteration of its flagship sported cameras designed with Leica Camera AG; this one is expected to employ an in-house developed multicore Kirin 970 processor.
"The dual-camera technology, which was first introduced by Huawei, is now a must-have feature adopted by major players across the globe," chief executive officer Guo Ping (郭平) told Bloomberg Television. "Apple is an outstanding company that we respect, but Huawei also has a lot of innovations."
Even Vivo — the smallest player of the group, is teasing the silhouette of a new thin-bezel device, presaging an imminent release, though it declined to comment on details.
The top-shelf iPhone's rumored US$1,000-plus price tag might end up pushing Chinese iOS fans toward local alternatives, because even well-heeled buyers are price-sensitive, Canalys analyst Jia Mo said.
"Not every high-end user in China [is] willing to accept a price tag above 8,000 yuan. Actually there are many who can't afford it," he said.
Comments will be moderated. Keep comments relevant to the article. Remarks containing abusive and obscene language, personal attacks of any kind or promotion will be removed and the user banned. Final decision will be at the discretion of the Taipei Times.