ITRI collaborating with firms to develop robots
The Industrial Technology Research Institute (ITRI, 工研院) yesterday said it is collaborating with local manufacturers to offer new-generation, affordable robots for electronics and logistics companies to automate their factories and warehouses.
Different from the chunky industrial robots that are usually deployed at large-scale factories, the institute said it is more interested in developing collaborative robots for smaller and more diverse factory and depot automation.
"Traditional industrial robots are suitable for large-scale production lines. They need a lot of space and cost a lot of money, which small and medium-sized enterprises cannot afford," Patrick Yu (游鴻修), acting division director of ITRI's mechanical and mechatronics systems research labs, told reporters on the sidelines of the Taiwan Automation Intelligence and Robot Show at the Taipei Nangang Exhibition Center, Hall 1.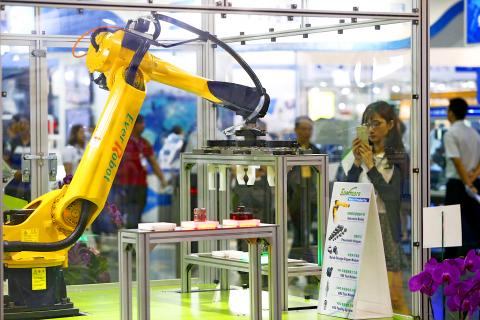 A woman photographs an industrial robot at the Taipei Nangang Exhibition Center yesterday.
Photo: CNA
"We believe that collaborative robots, which are designed to work in relative safety with people on the same factory floor, can have richer features and be applied to more industries."
Such machines could be used to pick up and package goods in an e-commerce depot or in the food processing sector, Yu said.
The Hsinchu-based institute is developing a prototype collaborative robot, Yu said.
The institute has spun off a research unit to put the machines on the market, he said.
The institute in collaboration with Shihlin Electric & Engineering Corp (士林電機) has also developed servomotors for "smart" robotic arms, Yu said.
The institute is also working with Autotek Corp (和樁) to develop an all-in-one machine arm joint, he said.
The institute said its robots would be deployed in smaller factories at affordable prices without major overhauls of workspaces or warehouses.
Their operations would become like Amazon.com Inc's "smart" warehouses, it said.
Also eyeing growing demand for factory automation, Rong Shin Automation Technology (榮興自動化科技) has partnered with the institute to roll out small, automated conveyor systems for use in the assembly lines and to offer assistance in grocery warehouses.
With a modular design that can be arranged according to where it is to be used, the conveyor systems can transport goods between shelves faster than people, the institute said.
What makes Rong Shin different is that the company also offers leasing services for its products, the institute said.
Noveltek Industrial Manufacturing Inc (恆智重機), which concentrates on goods transportation, also displayed its latest driverless forklifts at the show.
Comments will be moderated. Keep comments relevant to the article. Remarks containing abusive and obscene language, personal attacks of any kind or promotion will be removed and the user banned. Final decision will be at the discretion of the Taipei Times.