Kohler launches experience center
PRODUCT SHOWCASE: The company aims to attract high-income earners with a unique experience for customers and design professionals at its outlets
Upscale kitchen and bath appliance supplier Kohler Co yesterday opened its first experience center in Taipei as part of its efforts to expand its global footprint to Asia.
The 604m2 facility in Taipei's Zhongshan District (中山) allows customers to test the company's full product line, from showers, tubs and sinks to toilets, the firm said.
"It is very interactive using latest technologies at the experience centers," company president and chief executive officer David Kohler told reporters on the sidelines of a news conference in Taipei.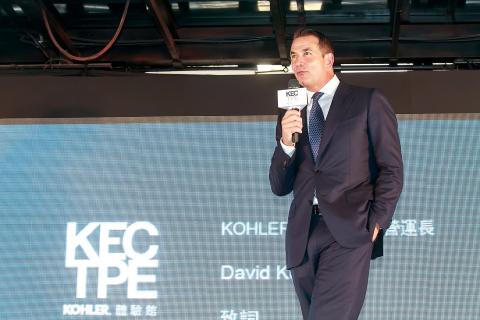 Kohler president and chief executive officer David Kohler speaks at the opening of the company's first experience center in Taipei's Zhongshan District yesterday.
Photo: Courtesy of Kohler Co
The company said it hopes to provide a place to showcase its products to architects and designers in Taipei, where they can have instant, hands-on access to Kohler's full offering of its global collections.
Kohler — which launched experience centers in New York, London and New Delhi earlier this year — said it plans to open two more in Bangkok and Singapore this week.
The firm is also considering to open a second experience center in Taiwan, it said, without providing a timetable.
Kohler has a long history in Taiwan: It entered the local market in 1986 and its products are available locally at 24 stores operated by its three distributors.
The US-based firm's near-term expansion project — which aims to open a total of 11 experience centers worldwide over the next two years — comes as it aims to attract high-income earners by offering a unique and comprehensive experience for both customers and design professionals at its physical outlets.
The idea of opening large experience centers worldwide came from the success the company has seen at its 19 signature stores, Kohler said.
Kohler said the company has been working on the launch of experience centers for about two years, driven by the growing need across the industry for a deeper knowledge and insight into latest kitchen and bath appliances.
Asked what the company does to differentiate itself from competitors, Kohler said the key is that the company blends technology and design into daily kitchen and bath appliances.
Although some kitchenware and bath appliance suppliers have tried to apply electronics techniques to develop products, they could not reach Kohler's level of design sophistication, he said.
Founded in 1873, Kohler is one of the US' largest privately held companies comprised of more than 30,000 associates, with more than 50 manufacturing plants around the world, the company said on its Web site.
Comments will be moderated. Keep comments relevant to the article. Remarks containing abusive and obscene language, personal attacks of any kind or promotion will be removed and the user banned. Final decision will be at the discretion of the Taipei Times.