Adata profit falls 60% in Q2, firm expects rebound
Adata Technology Co (威剛科技), the nation's biggest DRAM module supplier, yesterday said net profit tumbled about 60 percent last quarter from a quarter ago, as memory chip price hikes subsided due to seasonal slack PC demand.
Net profit sank to NT$310 million (US$10.3 million) during the quarter ending June 30, compared with NT$778 million in the first quarter, while earnings per share fell to NT$1.42 from NT$0.41.
The company's gross margin shrank 11.26 percent last quarter, from 18.19 percent in the first quarter of the year.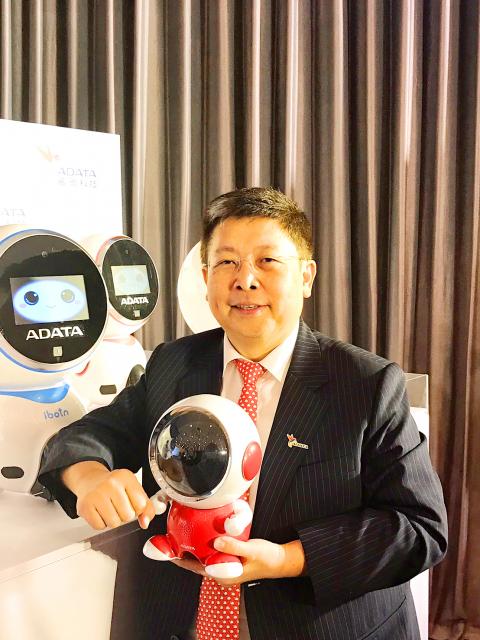 Adata Technology Co chairman Simon Chen poses for a picture holding the company's household robot Arobot yesterday.
Photo: Hung Yu-fang, Taipei Times
However, the company said it expects a quick recovery this quarter, supported by constrained supply of DRAM and NAND flash modules.
Supply of NAND flash memory chips might further be capped by the slow ramp-up of new 3D NAND flash memory chip production by major global suppliers, Adata said.
"The company has hit bottom in the second quarter in terms of profitability," Adata said in a company statement. "Profits in the third quarter will be better than in the second quarter."
The company forecast that short supply of DRAM chips would prompt a new wave of price hikes of perhaps more than 10 percent quarter-on-quarter this quarter, as seasonal demand picks up after a short break in the second quarter.
Net profit in the first half of the year more than quadrupled year-on-year to NT$1.1 billion, from NT$208.46 million in the same period last year. Earnings per share also rose to NT$5.04 from NT$0.97.
Gross margin improved to 14.82 percent in the first half, from 7 percent in the previous year.
Adata yesterday posted 4.72 percent drop in revenue for last month at NT$2.62 billion from NT$2.75 billion in June. That represented an annual growth of 45.44 percent from NT$1.8 billion.
DRAM modules accounted for 53.9 percent of last month's overall revenue, while NAND flash memory modules made up 21.9 percent, the company said.
Comments will be moderated. Keep comments relevant to the article. Remarks containing abusive and obscene language, personal attacks of any kind or promotion will be removed and the user banned. Final decision will be at the discretion of the Taipei Times.