INTERVIEW: Energy transition risky, industry federation head says
The Chinese National Federation of Industries, which represents a majority of local manufacturing businesses, is growing increasingly uneasy as the government's deadline for a nuclear-free Taiwan by 2025 draws near. With a sharp increase in dependence on natural gas and renewable energy, the proposed power mix could prove unreliable and expensive, if not unfeasible, the trade group has said. Federation vice chairman Mark Lin, owner of Taichung-based Feng Hsin Steel Co, discussed companies' concerns in an interview with 'Taipei Times' staff reporter Crystal Hsu on Thursday in Taipei
Taipei Times (TT): Why is the Chinese National Federation of Industries (CNFI) worried about the government's aim of phasing out nuclear power by 2025 to enhance safety in power generation?
Mark Lin (林明儒): Taiwan lacks energy resources and depends heavily on imports to meet 98 percent of its energy demand, with coal generating 39 percent, natural gas 35 percent and nuclear power 16 percent.
The government aims to make Taiwan nuclear-free by 2025 by raising the contribution of natural gas to 50 percent, cutting coal's contribution to 30 percent and promoting the use of renewables such as solar, wind and hydropower, so that they should eventually make up 20 percent of the energy mix, compared with 5 percent currently.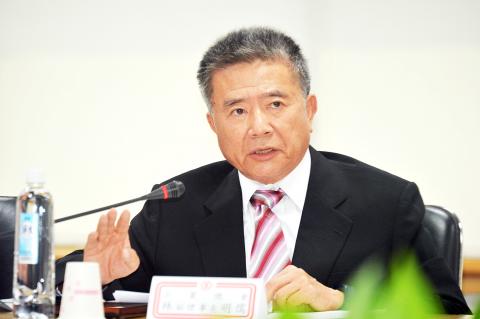 Chinese National Federation of Industries vice chairman Mark Lin, the owner of Taichung-based Feng Hsin Steel Co, speaks at a news conference in Taipei on Thursday.
Photo: CNA
The new energy mix requires the rapid and massive development of solar and wind energy resources and the construction of liquefied natural gas (LNG) terminals. This is a daunting task and raises uncertainty if the development slows or the construction of LNG terminals hits snags. If that were to happen, the government would have no choice but to increase power generation from coal, which would raise greenhouse gas emissions and exacerbate environmental pollution. Such a scenario would be unacceptable to the public, as well as businesses.
TT: What is wrong with the promotion of renewables to generate electricity?
Lin: Renewables supplied 4.8 percent of the nation's energy consumption last year, and the government intends to raise their share to 9 percent in 2010 and 20 percent in 2025, when they should generate 27,423 megawatts of electricity, more than 70 percent of which would come from solar power plants.
The manufacturing industry is conservative about the development of solar power, because it requires massive land plots to build solar farms and the government has so far failed to come up with a solution to this problem.
Wind power generation at offshore facilities seems more promising, but is to cost NT$6 per kilowatt-hour (kWh) and it will take a while to overcome engineering bottlenecks. The government has installed wind power capacity in suitable coastal areas and will have difficulty finding much more space for new capacity.
Authorities have provided the private sector with strong incentives to develop renewable energy sources, all of which will translate into significantly higher electricity prices in the future. We wonder if these favorable policies will be maintained, especially in case of an economic downturn. The government might then intervene through electricity price adjustments, making renewal energy development unpopular and unprofitable.
TT: What effect will the development of renewables have on electricity rates?
Lin: On average, nuclear power costs NT$1.2 per kWh. Offshore wind power costs NT$6 per kWh and solar power between NT$5 and NT$7 per kWh.
A drastic spike in electricity bills is inevitable if firms and households are to use more renewable energy. That would push up production costs and consumer prices. Local think tanks have projected the nation's GDP growth could drop by 0.52 to 0.72 percentage points if the government were to decommission all nuclear power plants.
Stable power supply is critical to manufacturing facilities that run 24 hours a day. Potential losses are huge.
TT: What are the CNFI's views on the increased dependence on LNG and coal for electricity generation?
Lin: The plans to raise LNG input to 50 percent would run into difficulties, because the nation does not have enough unloading and storage capacity, and hence has a low reserve margin. Unless the government drastically expands LNG unloading and storage capacity, there will be concerns about stability of power supply and safety.
The government has commissioned state-run Taiwan Power Co (台電) to build an LNG terminal in Keelung, but has not commissioned a company to build another terminal in Taichung, showing that it is not ready to meet the tough challenges of implementing its energy policy.
We also believe the government should reconsider its energy policy direction for national security reasons. Taiwan depends heavily on imports of LNG and coal for power generation, mainly from Qatar, Malaysia, Indonesia and Australia.
China has sought to dominate the South China Sea and its chilling ties with Taiwan could evolve into a threat to stable and smooth supply. National LNG reserves would last between seven and 10 days, and coal reserves about 36 days. If supply should be disrupted, Taiwan could run out of natural gas or coal and face an electricity shortage. By comparison, nuclear fuel lasts a year-and-a-half, making it more stable and reliable.
TT: What would the federation suggest the government do with the nuclear power plants?
Lin: A nuclear-free Taiwan is not practical or urgent in light of global trends. Japan has reactivated idle nuclear power facilities with nuclear power expected to meet 20 to 22 percent of Japanese energy demand by 2030. China is contemplating increasing the use of nuclear power to cut carbon emissions and ensure sufficient power supply.
The UK has decided to build new generators with similar aims. Switzerland and Sweden, which earlier presented plans to phase out nuclear power facilities, are entertaining the possibility of a reversal.
According to international research bodies, nuclear power last year supplied 11 percent of the world's power, but that could rise to 18 percent in 2040, as governments seek to lower carbon emissions and maintain a stable power supply.
Taiwan should follow suit, as long as authorities can guarantee a stable power supply. Electricity is fundamental and critical to a nation's economic development. Without the support of nuclear power plants, the nation's electricity reserve could drop below 3 percent in 2025 and power shortages could deal a blow to industrial production and economic activity.
The government should see how renewables develop before it decides on the pace of nuclear decommissioning.
TT: Would you also comment on the business outlook of Feng Hsin Steel Co (豐興鋼鐵) in the second half of the year?
Lin: Demand for steel recovered and sales prices picked up in the first half of the year and might continue to improve for the rest of the year, after China moved to cut its steel output, the main cause of the market glut.
Comments will be moderated. Keep comments relevant to the article. Remarks containing abusive and obscene language, personal attacks of any kind or promotion will be removed and the user banned. Final decision will be at the discretion of the Taipei Times.