TSMC revenue dips amid inventory glut
BRIGHTER OUTLOOK: The company said it would have have the most advanced technology in the market next year and expects to outperform the industry in the fall
Taiwan Semiconductor Manufacturing Co (TSMC, 台積電) yesterday posted the lowest quarterly net profit in five quarters, but it expects a strong rebound starting this quarter, thanks to a speedy ramp-up in production of 10-nanometer mobile phone chips and the depletion of excessive inventory in the supply chain.
TSMC, which supplies 10-nanometer chips to Apple Inc for the latest iPhone series, expects revenue this quarter to expand by up to16.6 percent to between US$8.12 billion and US$8.22 billion, compared with NT$213.86 billion (US$7.04 billion) in the prior quarter.
"This growth is driven by fast ramp-up of 10-nanometer mobile customer products, but moderated by [fabless customers'] continuous inventory adjustment," TSMC co-chief executive officer Mark Liu (劉德音) told investors.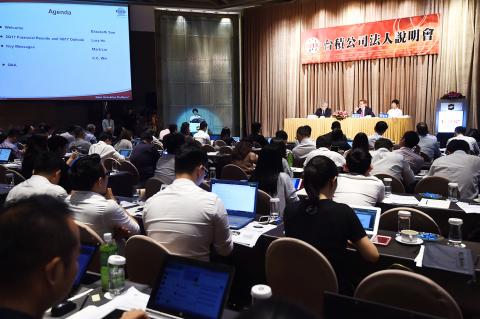 Back row, from left, Taiwan Semiconductor Manufacturing Co co-chief executive officers C.C. Wei, Mark Liu and chief financial officer Lora Ho yesterday attend an investor conference in Taipei.
Photo: Chien Jung-fong, Taipei Times
TSMC expects 10-nanometer chips' revenue contribution to surge to 10 percent of total revenue this quarter, up from 1 percent last quarter.
Meanwhile, fabless customers are expected to reduce their inventories to the normal seasonal level by the end of this quarter, Liu said.
The chipmaker said it expects revenue growth in all segments.
"Other than smartphones, we continue to see good momentum coming from the industrial and automotive sections," Liu said.
In China, the smartphone market is expected to pick up in the second half of this year with new models set to hit the market, after a slowdown in the first half, Liu said.
However, gross margin is forecast to shrink to between 48.5 percent and 50.5 percent, compared with last quarter's 50.8 percent, due to the strong New Taiwan dollar.
"The fourth quarter will also be a strong quarter," Liu said.
Revenue next quarter is likely to reach another record high, as TSMC expects revenue to grow 5 percent annually in the second half of this year, following a flattish third quarter on an annual basis.
For the year, TSMC still expects revenue to grow between 5 percent and 10 percent annually in US dollar terms, he said.
Liu raised his revenue growth projection for the worldwide semiconductor industry excluding memory chips to 6 percent this year from his previous estimate of 4 percent, due to rising silicon contents.
TSMC also said that the enhanced version of its 7-nanometer technology will be the most advanced technology in the foundry market next year, outstripping rivals like Samsung Electronics Co.
Net profit tumbled 24.4 percent to NT$66.27 billion during the quarter ending June 30, compared with NT$87.63 billion in the first quarter, marking the lowest profit since the first quarter of last year.
TSMC attributed the contraction to severe inventory correction in the supply chain.
On an annual basis, net profit contracted 8.6 percent from NT$72.51 billion.
Gross margin fell to 50.8 percent last quarter from 51.9 percent in the first quarter and 51.5 percent in the second quarter last year.
Comments will be moderated. Keep comments relevant to the article. Remarks containing abusive and obscene language, personal attacks of any kind or promotion will be removed and the user banned. Final decision will be at the discretion of the Taipei Times.