China sentences Crown Resorts staff
Australian and Chinese staff of a casino company yesterday pleaded guilty to charges relating to gambling, and 16 were sentenced to nine or 10 months in prison, the company and an Australian official said.
The 19 defendants, including three Australians from the sales and marketing team of Australia's Crown Resorts Ltd, were convicted by a court in Shanghai.
Casino gambling, the marketing of casinos and organizing overseas gambling trips involving 10 or more people are illegal in China.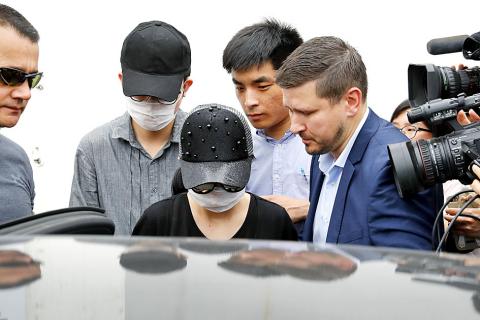 Crown Resorts employees wearing masks are escorted by security as they leave the Baoshan District People's Court in Shanghai yesterday after their trial.
Photo: AP
Eleven defendants were sentenced to nine months' imprisonment and five defendants to 10 months, Crown said.
Their time spent in detention since Oct. 14 last year is to count toward their sentences.
The 16 were also fined a total of 8.62 million yuan (US$1.26 million), which Crown is paying ex gratia, the company said in a statement to the Australian Securities Exchange.
The remaining three defendants who had been released on bail on Nov. 11 last year were not fined or sentenced to prison, Crown said.
"The three Australians and the other defendants pleaded guilty," Australian Consul General in Shanghai Graeme Meehan said outside the Baoshan District People's Court.
Crown's international VIP programs head Jason O'Connor was sentenced to 10 months in prison, and Australian-Chinese dual nationals Jenny Pan and Jerry Xuan received sentences of nine months, Meehan said.
The court fined O'Connor 2 million yuan, Pan 400,000 yuan and Xuan 200,000 yuan, the company said.
Melbourne-based O'Connor was also ordered deported.
Crown's senior vice president for China, Malaysian Alfread Gomez, was also among the defendants.
Casino gambling and the promoting of gambling are illegal in China, and agents are banned from organizing groups of more than 10 Chinese to gamble abroad.
The 17 current and two former employees were convicted of clauses including organizing gambling parties or being engaged in gambling as one's main business, which carried a maximum sentence of three years in prison, Crown said.
While illegal in China, gambling is allowed in Macau — Asia's gambling center — and Chinese are often coveted by foreign casinos.
The industry has been known to skirt China's ban by touting destination packages rather than gambling, particularly as Chinese President Xi Jinping's (習近平) ongoing corruption crackdown has deterred some gamblers from Macau.
"Crown remains respectful of the sovereign jurisdiction of the People's Republic of China and does not intend to comment further at this time," the company said.
Comments will be moderated. Keep comments relevant to the article. Remarks containing abusive and obscene language, personal attacks of any kind or promotion will be removed and the user banned. Final decision will be at the discretion of the Taipei Times.