Foreign automakers wave the US flag in Detroit
Foreign companies scrambled to trumpet their willingness to manufacture cars in the US after the US president-elect threatened them with high tariffs if they sell cars that were made elsewhere
Pledges of loyalty to the US, touting local investments and cars draped in red, white and blue.
At the annual Detroit auto show, foreign manufacturers have put their US patriotism on ostentatious display.
The trend by itself is nothing new and the brand message of global manufacturers often is tailored for local markets.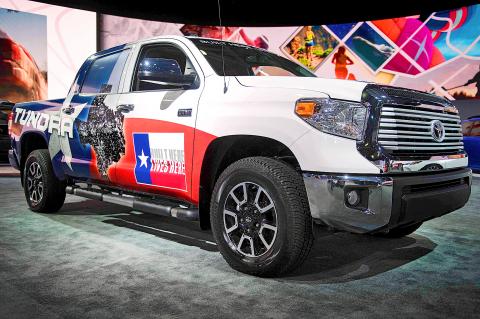 A Toyota Tundra pickup truck, with lettering on the passenger door reading "Built here, lives here," is pictured at the North American International Auto Show in Detroit, Michigan, on Tuesday last week.
Photo: AFP
However, this year, with the imminent inauguration of US president-elect Donald Trump, this professed devotion takes on greater significance, especially at the key showcase for the auto industry, which has come under frequent attack.
The US president-elect has singled out US and foreign auto manufacturers, threatening them with steep import tariffs if they sell cars on the US market that were made in Mexico.
The auto industry has invested heavily in Mexico to take advantage of cheaper labor and access to duty-free trade within the North American Free-Trade Agreement, a pact Trump also has attacked.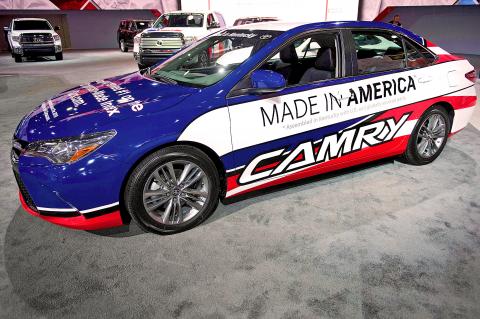 A Toyota Camry, with lettering on the side reading "Made in America, assembled in Kentucky with US and globally sourced parts," is pictured at the 2017 North American International Auto Show in Detroit, Michigan, on Tuesday last week.
Photo: AFP
Some automakers have made goodwill overtures toward Trump, including Toyota Motor Corp, which on Tuesday last week fortuitously announced US$10 billion in US investment over the next five years and calling attention to that it employs 40,000 people in the US.
The newest Toyota Camry draped in the stars and stripes and emblazoned with the words "Made in America" was a prominent feature in the Japanese automaker's area of the convention center in Detroit, Michigan.
Behind it were two Toyota Tacoma and Tundra pickups, the latter bearing a map of Texas, where it is assembled.
The red, white and blue Tacoma also let visitors know that Toyota participates in the US Chamber of Commerce's "hiring our heroes" program to provide jobs for US military veterans.
The company "wants to be genuinely involved in American culture," Detroit-based auto industry analyst Bertrand Rakoto said.
"Toyota is the only foreign manufacturer to get involved in NASCAR," the popular US stock car racing series, he said.
Nearby, a Hyundai Motor Co sports utility vehicle (SUV) was decorated with the logo of US National Football League, which it sponsors, though American football has only limited appeal in South Korea.
Images of the US flag also are displayed across the screens above the display by Volkswagen AG (VW), where it is showcasing its large new SUV, the Atlas.
VW Group of America Inc president and chief executive officer Hinrich Woebcken described the Atlas as "designed for the American lifestyle and built here in the US in our state-of-the-art factory in Chattanooga," Tennessee.
Nissan Motor Co chief executive officer Carlos Ghosn took advantage of the Detroit auto show to brag that his company has "a 33-year history of investing in the United States" and employs 22,000 people there.
The company's plant in Smyrna, Tennessee is "the largest industry plant in North America," working at full capacity to produce 642,000 cars last year.
As a buffer against currency fluctuations and to avoid import duties, Japanese, South Korean and German manufacturers have built numerous production facilities in the US over the past 30 years, particularly in the south rather than near Detroit, the traditional home of the US auto industry.
This is the case for Mercedes-Benz, BMW AG and Volkswagen, whose US output quadrupled between 2009 and last year, rising to 850,000 units from 214,000, according to the German auto association VDA, which called this "a clear commitment to the US as an industrial location," especially given that 59 percent of these units are exported.
Sweden's Volvo Car Corp also hopes to set up a factory in Charleston, South Carolina, to make cars for export.
Whatever the make, "vehicles bound for the US market are mostly manufactured in the US," auto analyst Rakoto said.
US consumers want to buy American, he said.
"An American Honda or an American Toyota is still a patriotic purchase after all and manufacturers are openly betting on this," he said.
Comments will be moderated. Keep comments relevant to the article. Remarks containing abusive and obscene language, personal attacks of any kind or promotion will be removed and the user banned. Final decision will be at the discretion of the Taipei Times.