Volkswagen to cut 30,000 jobs at VW brand
German automaker Volkswagen AG and its labor unions have agreed to 30,000 job cuts by 2021 at its VW brand as part of a plan to boost profitability and fund a shift to electric and self-driving cars after its emissions scandal, a source said yesterday.
Europe's largest automaker is trying to increase savings at its biggest unit in Germany, where its costs are high, while needing to find billions of euros to pay for the cleanup related to its diesel emissions cheating scandal.
The agreement, details of which were to be announced at a news conference yesterday, foresees 3.7 billion euros (US$3.9 billion) in annual savings at VW's namesake brand, which would involve 23,000 job cuts in Germany alone, another source said.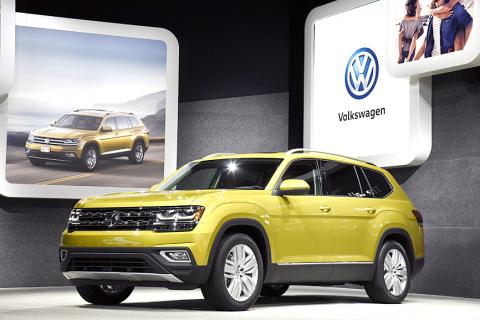 The 2018 Volkswagon Atlas is debuted at AutoMobility LA in Los Angeles, California, on Wednesday.
Photo: EPA
VW Group, which has 610,076 employees worldwide, declined to comment.
The so-called future pact, which the two sides have been hammering out since June, aims to increase the brand's operating margin from an expected 2 percent this year.
Labor leaders agreed to the cuts in exchange for a management pledge to create new jobs and invest in electric cars, mainly at factories in Germany.
At the same time as cutting traditional jobs, the VW brand is to create 9,000 new jobs through investments in electric car technology, the source said.
VW managers have agreed to build an electric sports utility vehicle at the company's main plant in Wolfsburg, Germany, the first source said.
German newspaper Handelsblatt reported earlier that up to 30,000 jobs would be cut by 2020.
It also said about 10,000 jobs would be axed outside of Germany, mainly in North and South America.
Comments will be moderated. Keep comments relevant to the article. Remarks containing abusive and obscene language, personal attacks of any kind or promotion will be removed and the user banned. Final decision will be at the discretion of the Taipei Times.