Netflix soars on subscriber growth
Netflix Inc surged more than 20 percent on Monday after reporting its streaming service signed up 3.57 million subscribers in the third quarter, vanquishing — for now — investor concerns about slowing growth at the world's largest online TV network.
The company will become more profitable next year, providing fuel for original shows like the sci-fi hit Stranger Things and the crime drama Narcos, chief executive Reed Hastings told shareholders on Monday after results were announced.
Netflix, based in Los Gatos, California, plans to spend a net US$6 billion on programming next year, an increase of 20 percent.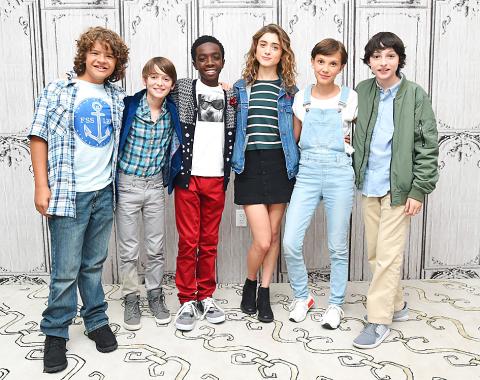 From left to right, actors Gaten Matarazzo, Noah Schnapp, Caleb McLaughlin, Natalia Dyer, Millie Bobby Brown and Finn Wolfhard of the Netflix sci-fi series Stranger Things attend the BUILD Series at AOL headquarters on Aug. 31 in New York City.
Photo: AFP
The growth in subscribers reassured investors who have made Netflix one of the hottest stocks in recent years, believing the company can spur the adoption of on-demand TV globally, as it did in the US, and become a dominant global online entertainment company.
Confidence in that trajectory was shaken three months ago when subscriber growth faltered. The company finished the third quarter with a better-than-projected 86.7 million customers worldwide.
Netflix shares soared in extended trading, rising as much as 22 percent to US$121.28.
The company still faces hurdles, including subscriber growth that continues to slow. Netflix generates little or no profit and its programming budget is still burning through funds. With US$1.3 billion in cash at quarter's end, Netflix said it plans to borrow via a debt sale in the coming weeks.
In the third quarter, Netflix added 3.2 million customers internationally and 370,000 in the US, beating analysts' forecasts on both fronts. The firm projected it would sign up 5.2 million customers in the final three months of this year, lifting the total to almost 92 million.
Third-quarter revenue rose 32 percent to US$2.29 billion, beating the US$2.28 billion average of analysts' estimates. Net income increased 75 percent to US$51.5 million, or US$0.12 a share, also topping the US$0.06 average of analysts' estimates.
This quarter, Netflix forecasts US subscriber gains of 1.45 million, compared with the 1 million average of analysts' estimates, and international additions of 3.75 million, compared with a 3.1 million estimate.
With the US market older and more mature, Netflix is relying on international gains to fuel its growth in the years ahead, including the 130 new territories the company began serving in January.
Netflix does not provide much detail on its performance in specific territories, though executives have singled out Brazil and Australia as two strong markets. Canada and the UK are two of Netflix's largest overseas customer bases, according to analysts.
Last quarter, the company began accepting local currency payments in Poland and Turkey, and added local language user interfaces, subtitles and dubbing, as well as local content. Third-quarter streaming revenue increased 65 percent to US$853 million.
Future gains will have to come without China. Netflix on Monday said the regulatory environment remains challenging and that its efforts in that country would be limited to licensing shows it owns to existing online service providers.
"We still have a long-term desire to serve the Chinese people directly, and hope to launch our service in China eventually," the company said.
Netflix has no plans to raise prices, though the company forecasts its average subscription price will rise 12 percent this year as older, less-expensive streaming plans are phased out.
The change in pricing policies contributed to the slowdown in user growth in the second quarter, as some customers canceled, and will restrain Netflix's subscriber gains for the full year, the company said.
Comments will be moderated. Keep comments relevant to the article. Remarks containing abusive and obscene language, personal attacks of any kind or promotion will be removed and the user banned. Final decision will be at the discretion of the Taipei Times.