More Chinese cities unveil steps to cool house market
PROPERTY DOOM? Guangzhou, Shenzhen and Suzhou are the latest to introduce measures, such as tighter credit and higher downpayment, to tame a home-buying frenzy
China's southern megacities of Guangzhou and Shenzhen are the latest centers to impose new measures to cool their overheated real-estate markets, including higher mortgage downpayments and home purchase restrictions.
A property boom has given a welcome boost to China's economy this year, fueling demand for everything from construction materials to furniture, but a growing buying frenzy is adding to worries about ever-rising debt and risks to the banking system.
The new measures are the latest steps to tighten credit flowing into the property sector, as the government tries to balance the need to prevent bubbles while stimulating economic growth.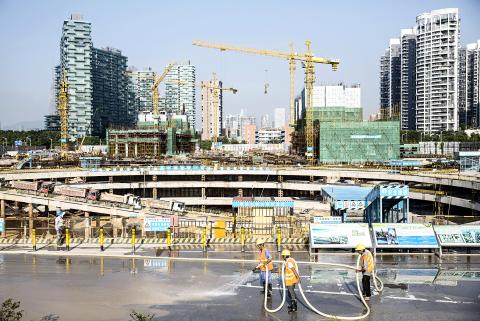 Workers use a water hose to clean the ground at a construction site in Shenzhen, China, on Aug. 23.
Photo: Bloomberg
Prices for new homes in the booming tech center of Shenzhen rose 36.8 percent from a year ago in August, while Guangzhou's new home prices rose 21.1 percent over that period, data from China's National Bureau of Statistics showed.
Other cities — including Chengdu, Jinan, Wuhan and Zhengzhou — have already announced new restrictions on property purchases, as the government tries to dampen prices stoked by property speculators in second and third-tier cities across the nation.
The average new home price in 70 major cities climbed an annual 9.2 percent in August, up from 7.9 percent in July, the bureau said.
Nomura analysts said the new measures were expected to help cool frothy prices in the biggest cities and should prevent the market frenzy from spilling over into smaller cities.
"We also believe it unlikely that the latest tightening measures will cause the bubble to burst, sparking a collapse of home prices. We envision a more likely scenario to be a mild retreat or prolonged flattening of home prices in tier-1 cities," they said in a note on Tuesday.
First-time home buyers in Shenzhen will face minimum downpayments of 30 percent, but deposits for others will be raised to no less than 50 percent, Xinhua news agency quoted a government document as saying.
Downpayments for second-home buyers in Guangdong Province will be increased to no less than 70 percent, Xinhua said without giving further details.
Guangzhou has limited local residents to purchasing a maximum of two properties, according to a statement posted late on Tuesday on the city government's Web site.
Non-local residents will be allowed to buy one property, if they can prove they have paid appropriate levels of tax or social security.
Separately, local media reported on Tuesday that Suzhou, Jiangsu Province, had unveiled fresh measures, including higher downpayment requirements, to cool the housing market.
Goldman Sachs Group Inc has sounded a warning about the outlook for China's property market, saying that it sees growing risks across the industry and that any downturn will pose a challenge for metals, especially iron ore and steel.
"We see growing vulnerability in the Chinese property market," the bank said in a commodities report, citing possible overbuilding, concerns some people now cannot afford homes and rising speculation. "Policy-driven housing booms tend to be followed by slumps due to the payback effect."
In a note issued on Tuesday that was entitled "China housing: when good news becomes bad news," the New York-based bank added: "Because housing is a durable good and depreciates very slowly, overbuilding and excess inventory tend to exacerbate the downturn when demand suddenly falls."
Additional reporting by Bloomberg
Comments will be moderated. Keep comments relevant to the article. Remarks containing abusive and obscene language, personal attacks of any kind or promotion will be removed and the user banned. Final decision will be at the discretion of the Taipei Times.