S Korean economy rose 0.7% in second quarter
PRIVATE SECTOR: A tax discount and new car and mobile phone releases spurred consumption, while low rates supported a construction boom
South Korea's growth rate advanced in the second quarter, supported by gains in private consumption and construction.
GDP rose 0.7 percent from the first quarter, when it expanded 0.5 percent, the Bank of Korea (BOK) said yesterday.
This compares with a 0.6 percent increase forecast by analysts surveyed by Bloomberg. The economy grew 3.2 percent from a year earlier.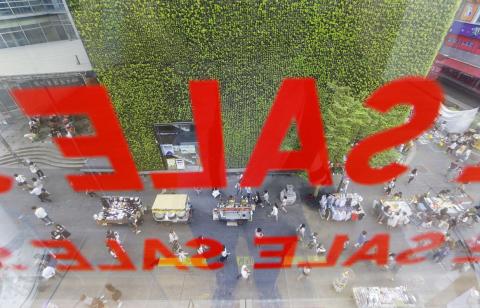 Sale signs are displayed on a window of a store in Seoul yesterday.
Photo: AP
An extension until the end of last month of temporary tax discounts for car purchases helped consumption and a construction boom continued, spurred by low interest rates. The BOK earlier this month cut its full-year GDP forecast slightly to 2.7 percent, citing risks, including restructuring of indebted companies, implementation of an anti-corruption law and global uncertainty amid the UK's vote to leave the EU.
The slightly better-than-expected GDP data "will likely buy the BOK policy board some time to see how fiscal and monetary policy stimulus in the pipeline is evolving in terms of supporting the economy," said Glenn Maguire, the Asia-Pacific chief economist at Australia & New Zealand Banking Group Ltd in Singapore. "The weight of corporate restructuring — particularly in employment-intensive heavy industry — will be a significant drag on the economy in the second half."
Private-sector consumption rose 0.9 percent in the second quarter compared with a contraction the previous three months. Construction investment grew 2.9 percent.
Government spending rose 0.2 percent and facilities investment rose 2.9 percent after a 7.4 percent dip in the previous quarter
Of the 0.7 percent growth from the first quarter, private consumption and construction investment contributed the most, adding 0.4 percentage points respectively. Facilities investments added 0.2 percentage points, while net exports stripped 0.3 percentage points, the statement showed.
The consumption tax cut extension and new product releases for cars and mobile phones had a positive effect on private spending, Bank of Korea director Kim Young-tai told a briefing.
Growth in the first half of the year was in line with central bank projections, Kim said.
The government announced an 11 trillion won (US$9.7 billion) supplementary budget last week that would help cushion the impact of corporate restructuring and job losses, especially in industrial cities where shipbuilders are located.
The central bank, which lowered its key interest rate to a record 1.25 percent last month, estimates the cut and supplementary budget would boost the growth rate by 0.2 percentage points.
Comments will be moderated. Keep comments relevant to the article. Remarks containing abusive and obscene language, personal attacks of any kind or promotion will be removed and the user banned. Final decision will be at the discretion of the Taipei Times.