ADB cuts growth forecast for Asia
The Asian Development Bank (ADB) yesterday said it had cut this year's growth projection for developing economies in Asia and the Pacific from its earlier forecast of 5.7 percent to 5.6 percent, but added that the economies' performance will remain solid and help offset softness from the US economy and near-term market shocks from Britain's vote to exit the EU.
The Manila-based lender's report said next year's growth forecast of 5.7 percent made in March remains unchanged.
"Although the Brexit vote has affected developing Asia's currency and stock markets, its impact on the real economy in the short term is expected to be small," ADB chief economist Shang-Jin Wei (魏尚進) said. "However, in light of the tepid growth prospects in the major industrial economies, policymakers should remain vigilant and be prepared to respond to external shocks to ensure growth in the region remains robust."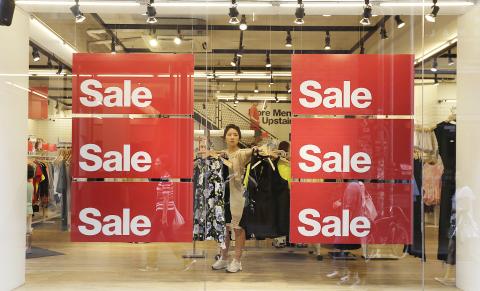 A shopper looks at clothes next to discount sale signs at a store in Seoul on Thursday.
Photo: AFP
China, the world's second-largest economy, is on track to meet earlier growth projections of 6.5 percent this year and 6.3 percent next year, with the government expected to continue fiscal and monetary stimulus measures to support its targets, the report said.
For East Asia as a whole, growth forecasts are unchanged at 5.7 percent this year and 5.6 percent next year, despite muted activity in Hong Kong and South Korea, it said.
However, growth this year and next will be led by South Asia, which is expected to be the fastest growing sub-region, with India likely to meet projected growth target of 7.4 percent this year and 7.8 percent next year, supported by brisk consumer spending and growth in the rural economy, according to the report.
In Southeast Asia, growth projections for this year and next remain unchanged at 4.5 percent and 4.8 percent respectively, the report said.
Solid performance of most economies in the sub-region for the first half of this year was driven by private consumption, except for Vietnam where a worsening drought caused a contraction in the agricultural sector, it added.
In Central Asia, this year's growth forecast was cut from 2.1 percent to 1.7 percent, and for next year it was cut from 2.8 percent to 2.7 percent due to a slump in revenues from hydrocarbon exports of Azerbaijan, Kazakhstan, Turkmenistan and Uzbekistan and the recession in Russia, the report said.
Growth this year in the Pacific is expected to slow to 3.9 percent from 7.1 percent last year, with the Fijian economy reeling from Cycline Winston, it said.
Stronger-than-expected tourism receipts are boosting the economies of Cook Islands and Samoa while post-cyclone reconstruction is helping Vanuatu's economy, the report added.
Comments will be moderated. Keep comments relevant to the article. Remarks containing abusive and obscene language, personal attacks of any kind or promotion will be removed and the user banned. Final decision will be at the discretion of the Taipei Times.