Chinese imports decline 2.3% in June
BUSINESS SUMMIT: European Commission President Jean-Claude Juncker said that Beijing should remove the barriers that limit market access for foreign companies
China's imports fell 2.3 percent year-on-year in yuan terms last month, official data showed yesterday, in a possible sign of weakening domestic demand in the world's second-largest economy.
Exports rose 1.3 percent from a year earlier, the Chinese General Administration of Customs said, while the monthly trade surplus jumped 12.8 percent to 311.2 billion yuan (US$46.5 million).
As the world's biggest trader in goods China is crucial to the global economy and its performance affects partners from Australia to Zambia, which have been battered by its slowing growth — while it faces headwinds itself in key developed markets.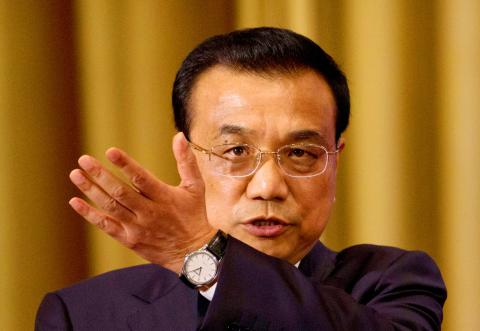 Chinese Premier Li Keqiang speaks at the China-EU Business Summit in Beijing yesterday.
Photo: Reuters
Customs attributed the fall in import values to weakening commodity prices.
"The input volume of major bulk commodities such as iron ore, crude oil and copper maintained growth," it said in a statement. "The prices of major import commodities remained low with a narrowing price decline."
China imports and exports both fell in the first half of the year, by 4.7 percent and 2.1 percent respectively.
Customs said there were "obvious obstacles" blocking China's foreign trade development, particularly the decline in business in both directions with major trading partners such as the US and ASEAN.
In US dollar terms, last month's exports fell by a more-than-expected 4.8 percent from a year earlier, while imports declined 8.4 percent, also missing estimates. That left the country with a trade surplus of US$48.11 billion for the month, compared with US$49.98 billion in May, customs said.
Meanwhile, Chinese Premier Li Keqiang (李克強) told EU officials that the country was committed to market reforms and remained determined to tackle a steel capacity glut that has sharpened tensions between the two sides.
Li, speaking at the China-EU Business Summit in Beijing, said China had always abided by its commitments on reform and would work to improve market access for foreign companies in the hope that all firms could compete on a level playing field.
"We want trade between China and Europe to grow on a stable platform," he said.
European enterprises working in China have long complained about unfair restrictions that make it difficult for them to compete with local rivals.
European Commission President Jean-Claude Juncker told the summit that Beijing should remove barriers and improve legal certainties.
China's sprawling steel sector has come under global scrutiny after a record surge in cheap exports were blamed for plant closures in Britain and elsewhere, sparking a rise in anti-dumping complaints and putting the country's market economy status in jeopardy.
European Commissioner for Trade Cecilia Malmstrom said that steel overcapacity needlessly pits Chinese and European workers against one another, while Juncker also warned that China's huge industrial capacity surplus should not be allowed to hurt relations with the EU.
Li said that China was taking strong and determined measures to tackle the problem of overcapacity, adding that China does not use subsidies to give its industries a competitive edge.
"China's will to solve the problem of steel overcapacity is resolute and our measures are effective," Li said.
"We hope that the European side can look at this issue from an unbiased perspective," Li said, calling for the two sides to resolve trade disputes through bilateral discussions.
China is willing to speed up negotiations with the EU to secure bilateral investment deals, Li said, while also calling on the EU to create a stable environment for bilateral trade.
Additional reporting by Reuters
Comments will be moderated. Keep comments relevant to the article. Remarks containing abusive and obscene language, personal attacks of any kind or promotion will be removed and the user banned. Final decision will be at the discretion of the Taipei Times.