Oil edges up, metals mixed on renewed US optimism
Oil prices rose modestly on Friday, as an unexpectedly strong US jobs report encouraged optimism about better economic growth and demand in the world's largest consumer of crude oil.
Prices had plunged nearly 5 percent on Thursday, leaving the market ripe for bargain pickers.
The US' employment report for last month, showing 287,000 jobs added following a dismal May, eased some concerns about the economy.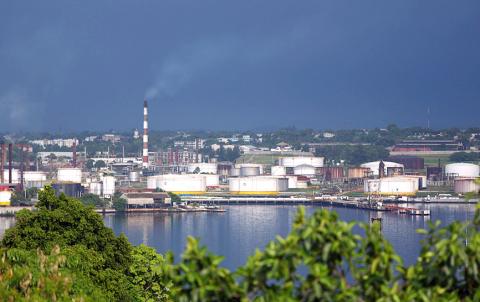 The Nico Lopez oil refinery in Havana is pictured on Thursday.
Photo: Reuters
US benchmark West Texas Intermediate for August delivery, rose US$0.27 to US$45.41 a barrel on the New York Mercantile Exchange.
Brent North Sea oil for September delivery, the global benchmark, closed at US$46.76 a barrel in London, a gain of US$0.36 from Thursday's settlement.
"The job number is the main feature for today" in the US market, Phil Flynn of Price Futures Group said.
The jobs figure suggests that "the strong demand we've seen in the US will probably continue because the economy is not as bad as we feared," he said.
Friday's fresh buying was supported by investors finally focusing on a steep fall in US production reported on Thursday, which the market at first "completely ignored," according to Commerzbank analysts.
US crude output fell by 194,000 barrels a day last week to 8.43 million barrels a day, down 12 percent from a year ago.
While that was bullish for the long-oversupplied market, Flynn said the number of active drilling rigs in the US, a barometer of future production activity, rose by 10 this week to 351, the fifth gain in six weeks.
"That's why the market is bouncing back and forth, because it's having a hard time finding direction whether this is bullish or bearish for prices," he said.
Meanwhile, the metal markets are caught between global gloom and renewed US optimism.
A six-week surge by gold, the quintessential haven investment, stalled on Friday, as better-than-expected US jobs data blunted global economic concern that has boosted safe-haven demand.
Copper, often used as a barometer for the global economy, gained as much as 0.9 percent after the labor report.
Gold has climbed 28 percent this year, with demand for havens surging after the UK's Brexit vote and traders cutting bets on the US Federal Reserve increasing interest rates this year.
The Fed wants more proof that hiring has resumed a healthy pace and that economic momentum is intact before raising interest rates, minutes released on Wednesday of last month's meeting showed.
Members of the Fed "are breathing a sigh of relief after this report, but the US economy and more importantly the global economy is still in a state of uncertainty," Chris Gaffney, president of EverBank World Markets in St Louis, said in an e-mail.
Those concerns "will keep them from moving rates higher in 2016," he said.
Bullion futures for August delivery slipped 0.3 percent to settle at US$1,358.40 an ounce at 1:42pm on the Comex in New York, after falling as much as 1.9 percent following the payrolls report. The metal has climbed 1.4 percent this week, capping the longest streak of weekly advances since July 2014.
Copper futures for delivery in September declined 0.2 percent to US$2.119 a pound (0.45kg) on the Comex. Prices are down 4.4 percent for the week, the biggest loss since May 6.
Comments will be moderated. Keep comments relevant to the article. Remarks containing abusive and obscene language, personal attacks of any kind or promotion will be removed and the user banned. Final decision will be at the discretion of the Taipei Times.