Chiuri named first woman to lead Dior
KINGMAKERS: Maria Grazia Chiuri, along with Pierpaolo Piccioli, are credited with creating the designs that made Valentino a billion-euro fashion brand
Dior yesterday named Italian designer Maria Grazia Chiuri as its new creative director, making her the first woman to lead the iconic French fashion house.
The 52-year-old left the Italian label Valentino on Thursday, paving the way for her appointment.
She is to present her first show in Paris on Sep. 30, the company said, following in the steps of legendary founder Christian Dior and such designers as Yves Saint Laurent, Gianfranco Ferre and John Galliano.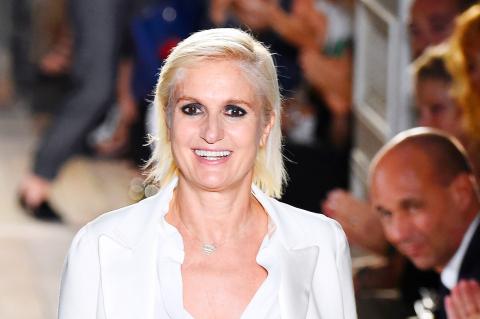 Maria Grazia Chiuri greets the audience at the end of the 2016-2017 fall/winter haute couture collection fashion show in Paris.
Photo: AFP
Dior has been without a leader since the shock departure of the Belgian Raf Simons in October last year, which sparked soul-searching in the industry about the pressure creators were under.
Valentino will be in sole charge of Chiuri's longtime creative partner, Pierpaolo Piccioli.
Together, Chiuri and Piccioli were credited with giving Valentino back its fizz, making it one of the most profitable designer brands in Europe.
They have quadrupled its turnover in seven years, turning Valentino into a billion-euro brand, with business up a staggering 48 percent last year and double-digit growth also predicted this year.
They presented their collection for Valentino on Wednesday at its Paris haute couture show, which Vogue hailed as an "unforgettable farewell."
Chiuri, whose mother was a dressmaker, but whose parents strongly disapproved of her going into fashion, took over at Valentino with Piccioli when its colorful founder Valentino Garavani retired in 2008.
Valentino, the "Sheikh of Chic," had poached them from the rival Roman label Fendi about a decade earlier.
There, the pair had pioneered its ground-breaking accessories range, with Chiuri credited with creating its distinctive studded handbags.
Chiuri is known for her love of exquisitely embroidered creations, with the silken applications on one of the gowns in Wednesday's Paris show taking 480 hours to attach.
Her fairytale floor-sweeping dresses and willowy frocks have won her an army of Hollywood fans, including actresses Gwyneth Paltrow, Anne Hathaway and Keira Knightley.
However, some have questioned her love of mediaeval motifs and called her look "anti-sexy."
She claims not to have been a natural show-woman, recalling her first show in charge of Valentino as a "nightmare."
"I was so shy and I found it hard to even talk. The night before I was at home trying to learn English from books" so that she could talk to the media.
She has since developed formidable media savvy, roping actors Ben Stiller and Owen Wilson from the Zoolander films which parody the fashion industry onto the catwalk of her autumn-winter show in Paris last year.
Comments will be moderated. Keep comments relevant to the article. Remarks containing abusive and obscene language, personal attacks of any kind or promotion will be removed and the user banned. Final decision will be at the discretion of the Taipei Times.