Qualcomm defends licensing fees
Qualcomm Inc yesterday said it has been licensing its patents almost at the same rates since the licensing program started three decades ago to help introduce innovative technologies, defending its role in recent competition probes around the globe.
Qualcomm, which supplies chips to Apple Inc's iPhone series and handsets from Taiwan's HTC Corp (宏達電) and Asustek Computer Inc (華碩), made the comments as it faces a slew of probes launched by global competition watchdogs over concerns that the US company's licensing practices might hamper market competition.
Qualcomm settled one case with the Chinese government about 18 months ago by slashing licensing fees by 35 percent for Chinese firms and other companies that sell goods containing Qualcomm's chips. Qualcomm also agreed to pay a fine of US$975 million imposed by Chinese authorities.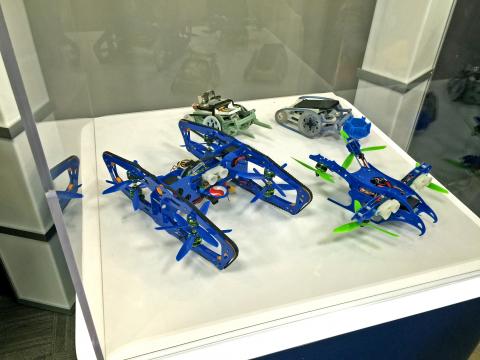 Drone prototypes containing Qualcomm chips are pictured in a showroom at Qualcomm's headquarters in San Diego, California, on Wednesday.
Photo: Lisa Wang, Taipei Times
Even so, Qualcomm is "not a monopoly," Qualcomm chief legal officer Donald Rosenberg told a small group of reporters from Taiwan at the company's headquarters in San Diego, California, on Wednesday. "Our general royalty rates have not changed from when we started to now. We haven't raised them, even though we added to that portfolio of patents by thousands of thousands."
"When we charge our license, it will be fair, reasonable and non-discriminate. We have done that for 30 years," Rosenberg said.
The royalty terms that Qualcomm mostly uses today are based on the company's negotiation outcome dating back to 1992 with then-industry giants Motorola and AT&T, said Fabian Gonell, a senior vice president of Qualcomm's counsel division.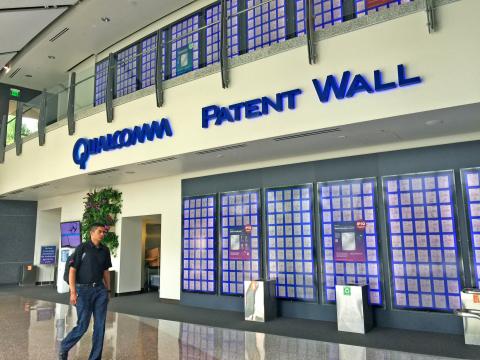 Qualcomm patents are displayed on a wall in the entrance of the company's headquarters in San Diego, California, on Wednesday.
Photo: Lisa Wang, Taipei Times
Since then, Qualcomm has been charging 5 percent of the selling price of a complete device, or mobile phone, Gonell said.
Taiwan's Fair Trade commission in December last year opened an investigation into Qualcomm's patent licensing practices as the regulator was concerned about whether Qualcomm "hampers market competition by abusing its dominance," commission spokesman Chiu Yung-ho (邱永和) said by telephone yesterday.
Chiu said the commission has requested Qualcomm to submit related information for clarification, adding that the probe is large in scale and will take time to collect sufficient information to make a ruling.
"We believe that our licensing practices are fair and they are good not just for Qualcomm, but for the entire industry," Gonell said.
"In Taiwan, we don't know what the key issues are, or what the fair commission is interested in... We are still in the early stage," Gonell said.
However, Gonell rejected reports that South Korean and Taiwanese authorities have requested Qualcomm to change its royalty model basing on chip prices, rather than the price of a complete device.
Comments will be moderated. Keep comments relevant to the article. Remarks containing abusive and obscene language, personal attacks of any kind or promotion will be removed and the user banned. Final decision will be at the discretion of the Taipei Times.