Fiat-Chrysler and Google in car partnership talks
SELF-DRIVING CARS: The partnership would help Fiat-Chrysler, which has lagged behind its rivals, and Google, which has said it does not plan to go into manufacturing
Fiat Chrysler Automobiles NV and Google's self-driving car project are in advanced talks to form a technical partnership. The talks were confirmed on Thursday by a person familiar with the discussions.
The partnership would be the first to match an automaker with Google's seven-year-old autonomous car project, which is now part of the so-called X lab at Alphabet Inc, Google's parent company.
Details have not been revealed, but Google has repeatedly said it does not intend to manufacture self-driving cars and would prefer to license its technology to carmakers.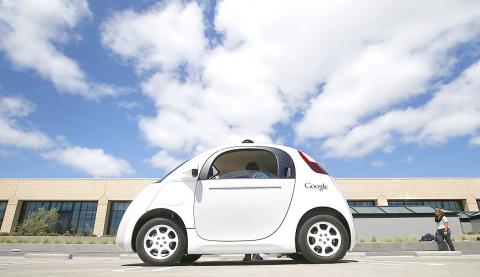 Google's new self-driving prototype car is presented for a demonstration on the Google campus in Mountain View, California, on May 13 last year.
Photo: AP
Google has been testing versions of self-driving cars on highways since 2009 and on city streets since 2014. It has a fleet of Lexus SUVs specially outfitted with autonomous software, as well as a pod-like prototype vehicle it designed.
"We want to partner to bring self-driving to all the vehicles in the world," Google cofounder and Alphabet president Sergey Brin told media at a self-driving car event last spring.
Last fall, Google hired John Krafcik, an auto industry veteran and former executive at Ford Motor Co and Hyundai Motor Co, to be the chief executive of its self-driving car project.
Fiat Chrysler — which has lagged bigger, richer rivals like Volkswagen AG and General Motors Co (GM) in the development of self-driving cars — might welcome the chance to test Google's technology.
The Italian-American automaker also has manufacturing expertise and factories that Google lacks.
Fiat Chrysler CEO Sergio Marchionne has been vocal about seeking a partner to share the cost of research and development. However, other automakers, including GM, have so far rebuffed him. A tie-up with Google would help his company leapfrog competitors in the race to develop self-driving cars.
Google has set a goal of having self-driving cars in the public's hands by 2020.
In related news, Chinese search engine giant Baidu Inc (百度) is planning to produce driverless cars by 2020, chief executive Robin Li (李彥宏) said on Thursday.
"We believe that the automobile is the next major computing platform," Li told analysts during a conference call. "We're on track now to deploy autonomous vehicles powered by Baidu technology in 2018 with production at scale by 2020."
Baidu reported that first-quarter revenue reached US$2.45 billion, up 31.2 percent from the same period a year earlier, according to a statement released on Thursday. However, net profit slid 18.9 percent year-on-year to US$308.1 million for the quarter, the statement said.
The company expects revenue in the second quarter to range from US$3.12 billion to US$3.19 billion in what could be an increase of more than 28 percent from the previous year.
Additional reporting by AFP
Comments will be moderated. Keep comments relevant to the article. Remarks containing abusive and obscene language, personal attacks of any kind or promotion will be removed and the user banned. Final decision will be at the discretion of the Taipei Times.