Japan's affection for robots saves Sharp's dancing smartphone
If there is one thing you can count on in Japan, it is the nation's persistent fascination with robots.
That is probably why Sharp Corp decided to stick with plans to introduce a 19cm-tall walking, talking smartphone called RoBoHoN, even as it is being rescued by Hon Hai Precision Industry Co (鴻海精密) after racking up losses and cutting staff.
The Osaka-based company is betting there is enough interest to sell 5,000 units each month, even with a price tag of ¥198,000 (US$1,800).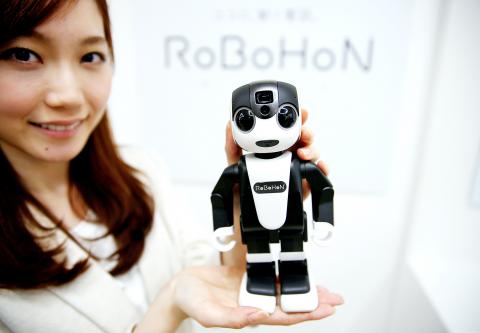 A model holds Sharp Corp's RoBoHon, a humanoid robot-shaped smartphone, at a news conference in Tokyo, Japan, yesterday.
Photo: Reuters
The tuxedo-clad robot is meant to be used as a digital assistant. It can send texts, handle video conferences and even display images using a head-mounted projector. RoBoHoN can even dance for its owner.
Sharp is touting the robot phone as sign that the company's spirit of innovation is still alive.
Last month, Sharp agreed to a deal that would cede control to Hon Hai, which has said it would bring more focus to the manufacturer's business.
"RoBoHoN does not just deliver the fun of a smartphone, it is a robot phone that responds to people with charm and fun," Sharp director Yoshisuke Hasegawa said. "In terms of developing the business, we are considering overseas sales."
With yesterday's announcement of pricing and availability from May 26, it looks like RoBoHoN's dancing days are not going to be over anytime soon, and if the gadget proves to be a hit, Sharp would be helped by being under the control of the world's biggest assembler of electronics devices, including Apple Inc's iPhones.
However, it might be wise to remember that there is no shortage of robots produced for Japan's consumers that failed to become mainstream, most notably AIBO, Sony Corp's robotic pet dog.
Initially a hit, even with a price tag of US$2,500, Sony pulled the plug on the digital pooch in 2006 after selling 150,000 units.
Pepper, a humanoid robot backed by Softbank Group Corp, which went on sale last year, has yet to catch on.
Even if RoBoHoN does not turn out to be the robot everyone was waiting for, it can still serve a useful purpose. The gadget stays still when you use it to, well, make phone calls.
Comments will be moderated. Keep comments relevant to the article. Remarks containing abusive and obscene language, personal attacks of any kind or promotion will be removed and the user banned. Final decision will be at the discretion of the Taipei Times.