Incoming premier pledges IoT help
WALKING AHEAD: The Taipei Computer Association called for government funding for the IoT industry so Taiwan can be a world leader, like it was with PCs
Premier-designate Lin Chuan (林全) yesterday said he would move "proactively" to review current industrial policies to help develop the Internet of Things (IoT) and "smart city" projects in Taiwan after the Democratic Progressive Party administration takes office on May 20.
"We view the IoT field as an important economic growth driver for the nation… We think Taiwan needs new industry to create more job opportunities and business potential," Lin told reporters after visiting the Smart City Summit and Expo at the Nangang Exhibition Hall in Taipei.
Lin said that IoT might be the next Industrial Revolution and Taiwan cannot miss the opportunity the industry promises when Taiwanese companies have the technologies and resources available.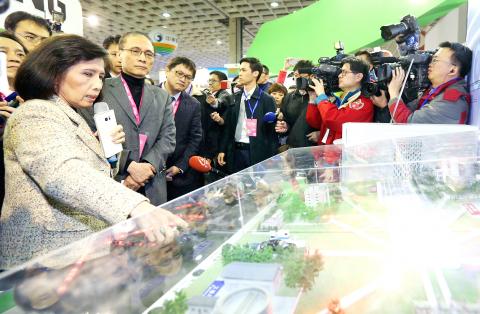 Tatung InfoComm chairwoman Kuo Wen-yen, left, yesterday explains the company's smart city project to premier-designate Lin Chuan, second left, at the Smart City Summit and Expo at Taipei's Nangang Exhibition Hall.
Photo: CNA
He also said new industry has more potential than existing industries when it comes to offering new job opportunities and higher wages.
"The government should support the development of a new industry," Lin said. "We hope to see certain positive results regarding the progress of smart city and the IoT industry during a short period of time."
Taipei Computer Association chairman Tung Tzu-hsien (童子賢), who accompanied Lin on his visit the exhibition, said he thinks a smart-city project could not be built without government help.
"Without the government's assistance, such as offering locations for smart-solutions trials, the manufacturers could not test their smart-city applications," Tung said.
Tung said former US president Bill Clinton's administration formed a high-ranking special office to listen to the opinions of those in Silicon Valley, California, and then amended policies in a bid help US companies amid the rising Internet industry.
"In addition to companies' private efforts, it is also important to have top-down aid from the government," he said.
"If the government's policies and budget allocation could meet the demands of the IoT industry, I believe Taiwanese companies could continue to walk ahead of the world, like we did in the PC era," Tung said.
An executive at Asus Cloud Corp (華碩雲端) shared a similar view, saying that the key to helping companies seize business opportunities in smart-city programs worldwide would depend on government support in building a smarter, safer and more convenient living environment.
"Smart city can not work without local government help with open data, setting up friendly policies and providing locations for smart-solutions trials," Asus Cloud global business center specialist Sean Chen (陳逸軒) told the Taipei Times at the expo.
Chen said Asus, Realtek Semiconductor Corp (瑞昱), Academia Sinca and the Taipei City Government jointly launched an "Air Box PM2.5" project on Tuesday, installing a total of 300 devices to monitor airborne particles measuring 2.5 micrometers or less in the city to collect air quality data.
The city government offered locations for the project and Realtek provided the hardware, while Asus' cloud-computing platform allows data to be stored and retrieved, he said.
"The Taipei City Government installed 150 Air Boxes in 150 elementary schools in just two days… This could have taken months if not for local government assistance," Asus chief executive officer Peter Wu (吳漢章) said.
Comments will be moderated. Keep comments relevant to the article. Remarks containing abusive and obscene language, personal attacks of any kind or promotion will be removed and the user banned. Final decision will be at the discretion of the Taipei Times.