Tests on new cancer drug show no significance: OBI
OBI Pharma Inc (台灣浩鼎) yesterday released the results of its second and third-phase clinical trials of a new breast cancer drug, OBI-822, saying the outcome of the study shows "no statistical significance."
While the study did not meet the primary efficacy endpoint of progression-free survival (PFS), the results still contain "meaningful scientific and clinical information," which have provided "clear direction for future product development," the company said in a statement.
OBI Pharma chairman Michael Chang (張念慈) said the company has received valuable information from the clinical trials, such as a substantial improvement in the PFS rate of the treatment group who demonstrated an immune response to the vaccine, as well as a clear, positive trend in the secondary endpoint of overall survival for patients.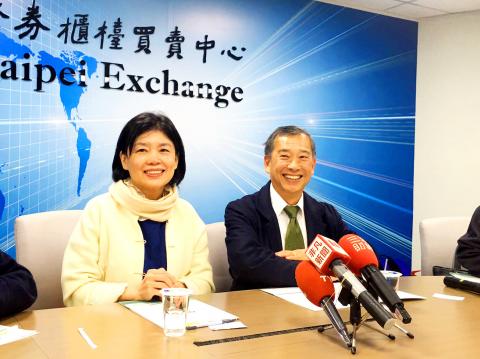 OBI Pharma Inc general manager Amy Huang, left, and chairman Michael Chang attend a press conference at the Taipei Exchange yesterday.
Photo: CNA
"This information is very important for designing the global third-phase study of the new drug," Chang said in the statement.
OBI-822 is designed to target Globo H, an oligosaccharide tumor antigen, to trigger the immune system to generate antibodies that activate cytotoxic T cells to destroy cancer cells.
Industry observers have viewed the drug as a promising aid to active immunotherapy for metastatic breast cancer, with curative effects far better than Herceptin of Swiss pharmaceuticals maker Roche Holding AG and Ibrance of US pharmaceuticals firm Pfizer Inc.
Chinese-language monthly Wealth Magazine executive director Hsieh Chin-ho (謝金河) yesterday raised some questions about OBI Pharma.
"The market was waiting for the results of OBI Pharma's phase two and three trials for OBI-822 today, but the outcome is worse than expected, as it did not pass clinical trials," Hsieh wrote in a post on his Facebook page. "How seriously will the news affect the company's shares? I am afraid it cannot be taken in so easily," he wrote.
OBI Pharma, the most expensive stock in the biotech sector, closed at NT$681 on the Taipei Exchange in Friday trading, down 3.81 percent from the previous session. The stock rose 3.97 percent this year and surged by 119.7 percent from its listing price of NT$310 in March last year.
The fate of the shares of another drug company in 2014 might be a lesson for OBI Pharma shares, Hsieh said, referring to Medigen Biotechnology Corp (基亞).
In July 2014, Medigen Biotechnology Corp announced an interim study of its new liver cancer drug, PI-88, saying it did not yield positive results, which drove its shares down for 20 straight sessions by the maximum daily limit until it fell to NT$112.5 from NT$459.
The sell-off in Medigen spread to other biotech stocks, causing great losses to investors at the time, Hsieh said.
Comments will be moderated. Keep comments relevant to the article. Remarks containing abusive and obscene language, personal attacks of any kind or promotion will be removed and the user banned. Final decision will be at the discretion of the Taipei Times.