Terry Gou confident about Sharp offer
OSAKA MEETING: The Hon Hai boss traveled to Japan to meet with Sharp's board, but says a non-dislosure agreement means he cannot publicly discuss specifics
Hon Hai Precision Industry Co (鴻海精密) chairman Terry Gou (郭台銘) yesterday said he is confident of the firm's offer for Sharp Corp and expects the Japanese company to reach a final decision before Friday.
"I am very confident. The [Japanese] government said it has not stepped into the deal and would let the board of Sharp to make its own decision. Plus, we think our terms are much better than other competitors'," Gou told reporters on the sidelines of Hon Hai's annual charity carnival at the National Taiwan University Sports Center in Taipei.
Gou returned to Taipei on Saturday night after a two-and-a-half-hour meeting with Sharp's board of directors in Osaka.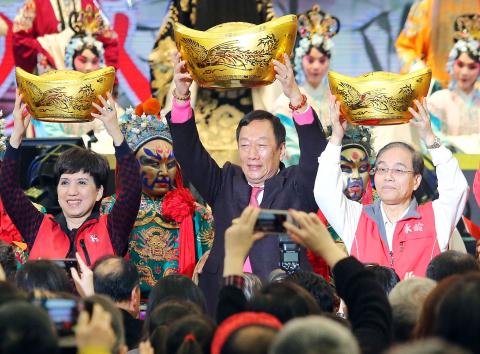 Hon Hai Precision Industry Co chairman Terry Gou, center, yesterday holds an imitation gold ingot at the company's annual charity carnival at the National Taiwan University Sports Center in Taipei.
Photo: CNA
He declined to confirm if Hon Hai, known as Foxconn Technology Group (富士康) outside Taiwan, has offered to take over Sharp with ¥625 billion (US$5.16 billion), saying a non-disclosure agreement bars him from discussing the amount of the proposed offer.
Officials from Hon Hai's rival for Sharp, Innovation Network Corp of Japan (INCJ), were also schedule to visit Sharp on Saturday to discuss its offer, according to Jiji Press.
INCJ is reportedly willing to provide a capital injection of more than ¥300 billion, according to the Nikkei Shimbun and Reuters.
Gou said he expected Sharp's board will make a decision this week.
There has been speculation that Sharp might announce its decision on Thursday, when it is to release its latest quarterly results for last quarter.
"I told the [Sharp] board members that I am not just bringing capital. I am bringing a corporate culture of sharing benefits with employees and an entrepreneurial spirit to the company," Gou said.
He said Hon Hai's planned investment would not affect Sharp's brand, management or employees.
"We do not want to destroy or combine the company. We want to keep it for another 100 years. We do not want to integrate it into our company. Otherwise, we might lose talent to [South] Korea, China or somewhere else," he said.
Though Hon Hai is offering more money, Sharp is reportedly leaning toward a deal with INCJ to keep its technology within Japan, wire agency reports have said.
Gou did not comment on such speculation.
He said INCJ does not represent the Japanese government, even though it handles the government's investment funds.
Gou said INCJ is a private corporation that helps the Japanese government to lend support to companies with critical finance.
"We are not competing against the Japanese government," he said.
Gou said he has met some "very" high-ranking Japanese government officials and was told that Tokyo welcomes technological cooperation between Taiwan and Japan.
"Our case could be an important example of a collaboration between Taiwan and Japan," he said.
Analysts are mixed about Hon Hai's bid, as it would be good in terms of technological advancement, but raises financial concerns.
"We believe Hon Hai is eyeing up Sharp's indium gallium zinc oxide technology, which can be applied to manufacture active-matrix organic light-emitting diode displays, which are reportedly to be adopted in the iPhone 8," Yuanta Securities Corp (元大證券) analyst Vincent Chen (陳豐丰) said in a note yesterday.
"However, if Hon Hai really does acquire Sharp, we believe it may not be beneficial for Hon Hai finance-wise, as Sharp has total debt of ¥1,039 billion — or up to NT$287 billion [US$8.53 billion]," Chen said.
Comments will be moderated. Keep comments relevant to the article. Remarks containing abusive and obscene language, personal attacks of any kind or promotion will be removed and the user banned. Final decision will be at the discretion of the Taipei Times.