Goldman Sachs to pay US$5 billion settlement
Goldman Sachs Group Inc said on Thursday it is to pay about US$5 billion to settle federal and state probes of its role in the sale of shoddy mortgages in the years leading to the housing bubble and subsequent financial crisis.
Coming nearly eight years after the crisis, the settlement is by far the largest the investment bank has reached related to its role in the meltdown, but the payment is dwarfed by those made by some of its Wall Street counterparts.
Goldman is to pay US$2.39 billion in civil monetary penalties, US$875 million in cash payments and provide US$1.8 billion in consumer relief in the form of mortgage forgiveness and refinancing.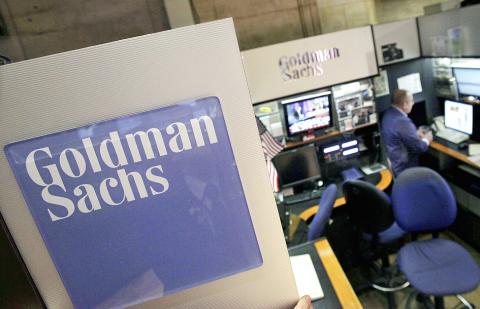 A trader works in the Goldman Sachs booth on the floor of the New York Stock Exchange on March 15, 2012.
Photo: AP
The US Department of Justice, the attorneys general of Illinois and New York, and other regulators who are part of the settlement have not officially signed off on the deal, which could take some time.
The government agencies are part of a joint state-federal task force created by US President Barack Obama after the 2008 financial crisis that has extracted some of the largest settlements out of Wall Street.
Goldman Sachs, like other Wall Street banks, has been under investigation for allegedly misleading investors on the safety of the securities they created by bundling and selling mortgages.
Many of those poorly written mortgages went bad, triggering the financial crisis that spawned the a recession and the multibillion government bailouts that caused so much political anger.
"We are pleased to have reached an agreement in principle to resolve these matters," Goldman Sachs chairman and chief executive Lloyd Blankfein said in a statement.
As a result of the settlement, Goldman said its fourth-quarter earnings would be reduced by US$1.5 billion. The firm earned US$1.33 billion in the third quarter.
A Department of Justice spokesman declined to comment on Goldman's announcement.
Goldman has been one of the last banks to settle with regulators for its role in the financial crisis. Bank of America, JPMorgan Chase & Co and others reached larger, more substantial settlements in 2014 and last year.
Bank of America individually has paid out tens of billions of US dollars in fines as a result of its role in the housing crisis. When JPMorgan reached a similar settlement with the same task force, it paid out US$13 billion.
Comments will be moderated. Keep comments relevant to the article. Remarks containing abusive and obscene language, personal attacks of any kind or promotion will be removed and the user banned. Final decision will be at the discretion of the Taipei Times.