General Motors hikes this year's earnings prediction
EBULLIANT: GM is relying on strong profits in North America with several key new models coming onto the market this year, and expects to break even in Europe
General Motors Co (GM) on Wednesday raised its earnings projection for this year by US$0.25 per share, increased the size of its share buyback and boosted the dividend.
GM forecast adjusted earnings per share of US$5.25 to US$5.75. Anticipating better profits, GM's board raised the share buyback plan to US$9 billion from US$5 billion and boosted the dividend to US0.38 per share from US$0.36.
The company sees continued but slowing sales growth in its very profitable North American business and in China. GM's new forecast came one day after Ford Motor Co, the second-largest US automaker, projected record profits this year and announced a special dividend of US$1 billion.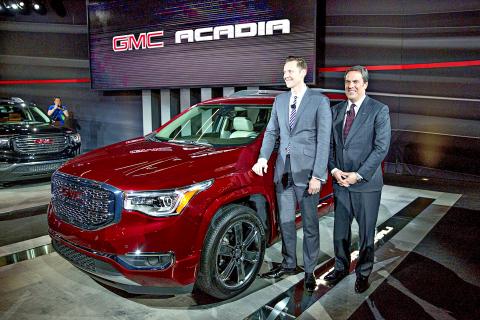 General Motors Co global product development executive vice president Mark Reuss, right, and Duncan Aldred, GMC and Buick vice president, stand next to the firm's new sport utility vehicle, the GMC Acadia, Acadia Denali crossover vehicle at the North American International Auto Show in Detroit, Michigan, on Tuesday.
Photo: Bloomberg
"We made significant progress executing our strategic plan and the results are being demonstrated through improved earnings," GM chief executive officer Mary Barra said on Wednesday at the company's Detroit headquarters. "We expect to sustain strong margins in North America and China and break even in Europe."
Part of GM's optimism comes from the strong US light-vehicle market. Last year, automakers sold a record 17.5 million cars and light trucks in the US and GM expects slight growth from that level. In addition, despite turbulence in China's financial markets, GM management still sees the market growing, the company said in a statement.
Breaking even in Europe would be progress since GM has not turned a significant profit there since the 1990s.
GM is relying on strong profits in North America with several key new models coming onto the market this year, such as the Chevrolet Malibu and Buick Lacrosse family sedans and the GMC Acadia and Cadillac XT5 sport utility vehicles.
Another driver of improved financial performance is more efficient investment in new models, GM president Dan Ammann said.
Almost all of GM's new models are significantly lighter, which allows the company to meet future fuel economy rules with less-expensive engines and transmissions, he said.
GM's new sport utility vehicle, the Acadia, which goes on sale in May, is 318kg lighter than the current version and gets better fuel economy, GM said on Tuesday at the Detroit auto show.
"We have taken significant mass out of our vehicles," Ammann said. "That will allow us to be compliant on fuel economy into the future."
GM is also building more models using the same frame underneath the car, especially in emerging markets, reducing the cost to develop vehicles, Ammann said.
GM last year announced a plan to invest US$5 billion to develop new vehicles for markets such as Mexico, China and India.
One car platform would host those vehicles replacing several costly sets of hardware, Ammann said.
With GM already developing models more efficiently, the company hit its target of 10 percent margins — measures by earnings before interest and taxes — in North America.
GM is targeting a 9 percent to 10 percent rise in revenues before next decade, Barra said.
GM now spends 5 percent to 5.5 percent of revenue on capital expenditures such as developing new vehicles. Over time, GM can reduce that spending and return more cash to shareholders, Ammann said.
The company has already bought back US$3.5 billion of the US$5 billion in shares that it announced in the buyback last year, the company said.
GM also announced a plan to help its dealers manage an increasing number of off-lease and former fleet cars. GM would certify them as pre-owned vehicles and offer factory warranties to help dealers sell the cars at better prices.
Comments will be moderated. Keep comments relevant to the article. Remarks containing abusive and obscene language, personal attacks of any kind or promotion will be removed and the user banned. Final decision will be at the discretion of the Taipei Times.