Largan foresees drop in demand for first quarter
After reporting annual and quarterly declines in net profits last quarter, Largan Precision Co (大立光) — a camera lens supplier for Apple Inc's iPhones — yesterday predicted that demand this quarter would be slower than the first quarter of last year.
"Order visibility remains one month ahead, so we cannot see too far ahead. However, I expect the slow season this year to be worse than in past years," chief executive officer Adam Lin (林恩平) told an investors' conference.
This quarter, revenues look set to drop from last quarter's NT$15.44 billion (US$457.59 million), with the size of the quarterly fall to be larger than the record decline posted in the first quarter of last year, Lin said.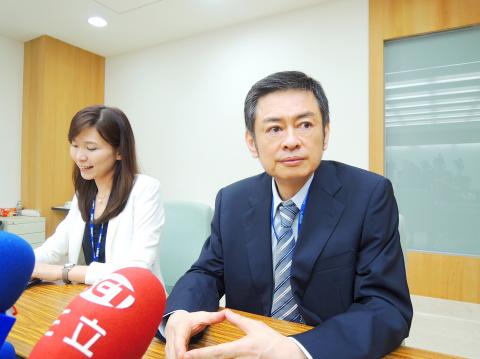 Largan Precision Co chief executive officer Adam Lin sets out his forecast for the company at a news conference in Taipei yesterday.
Photo: Chen Mei-ying, Taipei Times
Largan's sales plunged 37.44 percent quarterly to NT$10.56 billion last year in the quarter ending Mar. 31.
More than one client would adopt dual cameras for their products this year, Lin said, adding that the functions of such cameras can be used to increase exposure in taking photographs in dim environments and also for optical zooming.
"We are not certain how those clients plans to use dual-camera lenses. Largan is a component supplier, we only care about how to meet clients' demand for lens specifications," Lin said.
Remarking on an industry trend, Lin said that clients tend to continue upgrading their camera lens specifications.
Other than the camera lenses used in smartphones, Largan is to begin supplying camera lenses made out of glass for automobiles next year, Lin said.
The glass components would be polished in Largan's plants in China, while the firm's Taiwan facilities would assemble the components into camera lenses, Lin said.
The construction of Largan's new plant would be completed in the first quarter of next year and become operational in the second quarter as scheduled, Lin said.
Last quarter, Largan's net income dropped 9.55 percent annually and 18.04 percent quarterly to NT$6.72 billion, with earnings per share of NT$50.1, mainly because of soft demand for iPhone models.
Gross margin was 59.9 percent last quarter, up 9.24 percentage points from 50.66 percent in the same period a year earlier and 4.81 percentage points from the previous quarter's 55.09 percent.
The 59.9 percent gross margin was Largan's highest margin performance in the firm's history.
"The increase in gross margin was driven by the growing shipments of high-end lenses and a better yield rate," Largan investor relations official Josephine Huang (黃印嘉) said.
Largan posted net profits of NT$24.15 billion last year, an increase of 24.29 percent from NT$19.43 billion recorded the previous year.
Largan's earnings per share last year were NT$180.09, the highest figure in the Taiwan Stock Exchange's history.
Largan shares fell 5.6 percent to close at NT$1,855 in Taipei trading yesterday, underperforming the TAIEX, which declined 1.04 percent.
Comments will be moderated. Keep comments relevant to the article. Remarks containing abusive and obscene language, personal attacks of any kind or promotion will be removed and the user banned. Final decision will be at the discretion of the Taipei Times.