MOEA mulls PRC capital for IC sector
CAUTIOUS: The planned regulations are to include certain rules to prevent local IC designers from moving their operations to China, the minister of economic affairs said
Minister of Economic Affairs John Deng (鄧振中) yesterday said the ministry is drafting new regulations to allow Chinese investment in Taiwan's IC design industry.
"I hope it would not take too long to ease the restrictions on Chinese investments ... but the ban will not be eased if a set of corresponding measures are not drafted completely," Deng told reporters on the sidelines of a meeting of the legislature's Economics Committee.
Asked if the planned easing would take effect before the Lunar New Year holiday next year, Deng said there is no time frame for the issue, but he hopes to lift the ban before his term ends in May.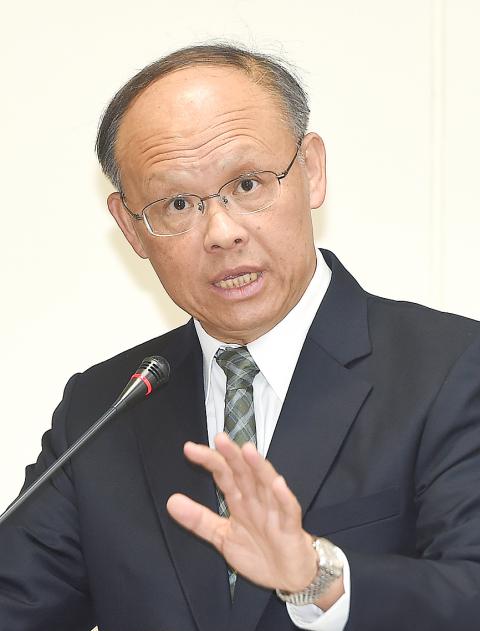 Minister of Economic Affairs John Deng answers questions during a meeting of the legislature's Financial Committee at the Legislative Yuan in Taipei yesterday.
Photo: Liao Chen-huei, Taipei Times
Deng said Taiwanese IC design companies must assure the government that they would not move their operations overseas after it allows Chinese investment.
The planned regulations are to include rules to prevent Taiwan's core IC design technologies or IC designers from being "inappropriately" transferred to China.
The government would also review the possibility of trade secrets being leaked via investments from China, he said.
Current regulations allow Chinese companies to own minority shares in downstream semiconductor firms, such as foundry makers or package and testing companies. However, given the increasing global competition, the Ministry of Economic Affairs (MOEA) is under pressure to support Taiwanese IC designers by considering investments from Chinese firms.
"Local companies have been communicating with the ministry. We heard their requests. We understand that the restrictions need to be relaxed," Deng said.
To allay potential concerns over the easing of restrictions, the ministry is to publicize the Industrial Development Bureau's evaluation and measures once they are ready, he said.
The ministry would also hold public hearings for the planned regulations if required, he added.
Earlier this month, MediaTek Inc (聯發科), the nation's largest chip designer, said it would adopt an "open attitude" toward cooperation with Chinese chipmakers to seek growth opportunities.
MediaTek's remarks came after Tsinghua Unigroup (清華紫光) chairman Zhao Weiguo (趙偉國) said the Chinese firm was interested in acquiring shares in MediaTek if given the opportunity.
Separately, Deng said that Taiwan prioritizes a trade in goods agreement with China over the US-led Trans Pacific Partnership (TPP) for the moment, adding that he hopes talks on the trade pact with China would make a breakthrough by the end of this year.
As the TPP agreement awaits ratification from its 12 members, Taiwan would focus on speeding up the pace of negotiations with China, he said.
Earlier this week, Taiwan and China completed the 12th round of negotiations on the trade in goods agreement, but the talks stalled when Taipei turned down Beijing's request to lift import bans on Chinese farm products.
Both sides are planning to hold a new round of talks next month, but Deng said it is hard to say when an agreement would be signed.
Additional reporting by CNA
Comments will be moderated. Keep comments relevant to the article. Remarks containing abusive and obscene language, personal attacks of any kind or promotion will be removed and the user banned. Final decision will be at the discretion of the Taipei Times.