Electricity supply and protests are main concerns over investments: TSMC
DEMOCRATIC CONSTRAINTS: As the president visited a TSMC factory, Morris Chang bemoaned the objections of environmental groups and a possible electricity shortfall
Taiwan Semiconductor Manufacturing Co (TSMC, 台積電) chairman Morris Chang (張忠謀) yesterday said electricity supply constraints and protests from environmental protection groups are its main concerns over its Taiwanese investments.
Chang made the remarks during President Ma Ying-jeou's (馬英九) visit to a TSMC factory in Taichung. The factory is undergoing second-phase expansion and is scheduled to begin producing advanced 10-nanometer chips next year.
The world's largest contract chipmaker said its Taichung project had been hampered by constant objections from environmental protection groups, who say that industrial waste from the factory could threaten the surrounding environment and local communities.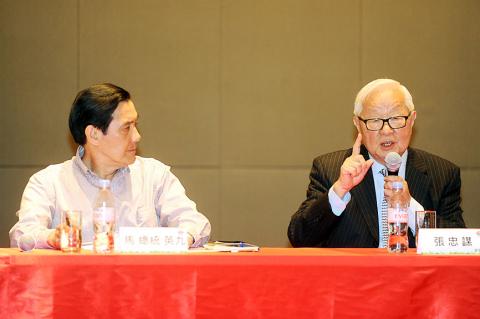 President Ma Ying-jeou, left, listens as Taiwan Semiconductor Manufacturing Co chairman Morris Chang promotes energy saving at the company's Taichung branch yesterday.
Photo: CNA
"We have passed an environmental review, but environmental protection groups continue to protest," Chang said at news conference, adding that environmental protection and economic growth are not mutually exclusive thanks to the advent of advanced green technologies.
The possibility of a shortage in electricity is also a real concern, Chang said.
Based on a Taiwan Power Co (Taipower, 台電) assessment, Taiwan could face power shortages next year as Taipower estimates its reserve energy capacity could fall to less than 10 percent of the nation's needs at peak times, from an estimate of 10.4 percent this year.
Long-term electricity rationing "would have a significant impact on us," local cable TV network UBN quoted Chang as saying yesterday.
TSMC has installed emergency power generators at each factory, but energy made this way is three times more expensive than regular supplies from Taipower, he said.
Taipower expects pressure to remain in place on power supplies.
In a recent rule change, industrial users such as chipmakers and flat-panel makers are required to submit a power usage assessment to the Bureau of Energy if they are seeking approval to build new factories.
Despite those concerns, TSMC plans to continue investing heavily in Taiwan, Chang said.
About 90 percent of TSMC's 44,000 employees are based in Taiwan, he said.
TSMC has been considering building a new plant in China, Chang said, adding that last month TSMC was "actively" assessing the possibility of investing in China, but had not yet come to a conclusion.
Commenting on growing competition from Chinese rivals, Chang said that TSMC holds technological advantages, and Chinese firms would take at least 10 years to come up with competitive alternatives, barring any unexpected breakthroughs.
However, TSMC plans to continue to push ahead with technology migration — with Moore's Law as a guide — in order to secure its leading position, Chang said.
Moore's Law is an observation that over the history of computer development, the number of transistors in an IC has doubled every two years, while the cost has decreased proportionately.
TSMC is the world's No. 3 chipmaker, and has the nation's largest market value of NT$3.66 trillion (US$112.11 billion).
TSMC shares rose 1.08 percent to NT$141 in Taipei trading yesterday, out-performing the TAIEX, which fell 0.17 percent.
Comments will be moderated. Keep comments relevant to the article. Remarks containing abusive and obscene language, personal attacks of any kind or promotion will be removed and the user banned. Final decision will be at the discretion of the Taipei Times.