Unemployment rate shows slow decline
RARE PHENOMENON: DGBAS deputy section head Chang Yun-yun said that the 0.01% decline in unemployment is insignificant and indicated demand for labor is weakening
The jobless rate eased to 3.89 percent last month, from 3.9 percent a month earlier, dropping by the slowest pace for the period in seven years as the ongoing economic slowdown subdued a more noticeable seasonal decline, the Directorate-General of Budget, Accounting and Statistics (DGBAS) said yesterday.
The unemployment reading has shed 0.08 to 0.17 percentage points each September from 2009 to last year as the job market emerges from the impact of new graduates, DGBAS deputy section head Chang Yun-yun (張雲澐) told a press conference in Taipei.
"The 0.01 percentage point decline is insignificant and a rare phenomenon at this time of the year, indicating demand for labor is weakening amid the slowdown," Chang said.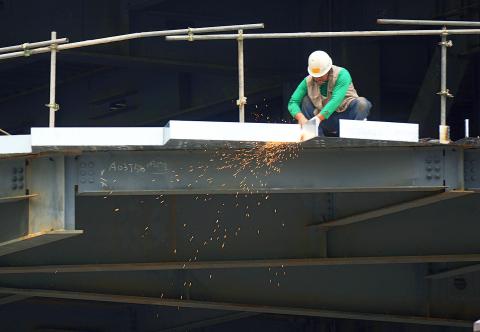 A construction worker is pictured at a building site in Taipei yesterday.
Photo: CNA
The average jobless rate for the first nine months stood at 3.74 percent, according to DGBAS.
A lagging economic indicator, the jobless rate reflected the nation's softening economy and might continue to deteriorate if economic data do not improve, Chang said.
Online recruitment agency 1111 Job Bank (1111人力銀行) said job offers dropped 2.65 percent last month from August, as companies in turned slightly conservative about their business outlook.
The unemployment rate after seasonal adjustment stood unchanged at 3.79 percent, a pickup of 0.05 percentage points from 3.74 percent in August, the DGBAS report showed.
The jobless population stood at 454,000 last month, a decrease of 2,000 from August, the report said.
The number of first-time job seekers fell by 5,000, while people who lost their jobs to business closures and downsizing, or temporary hiring rose by 2,000, the report said.
A breakdown by education showed that the unemployment rate was highest among people with a university degree or higher at 5.04 percent, followed by college graduates at 4.31 percent and high-school graduates at 3.87 percent, according to DGBAS tallies.
By age group, unemployment was highest among people aged 15 to 24 at 12.69 percent, compared with the 25-to-44 age group at 4.06 percent and the 45-to-64 age group at 1.97 percent, the report said.
In a separate report, the average monthly take-home wage stood at NT$38,775 in August, up 1.27 percent from the same period last year, the statistics agency said.
Adding non-regular compensation, the average monthly wage rose 0.85 percent to NT$44,882 in August from a year earlier, the report showed.
For the first eight months, average take-home pay gained 1.42 percent year-on-year to NT$38,617 per month and, including bonuses, rose 3.24 percent to NT$50,633.
The real monthly wage climbed 3.88 percent to NT$49,077 for the first eight months when factoring in a 0.62 percent decline in consumer prices, the report said.
Comments will be moderated. Keep comments relevant to the article. Remarks containing abusive and obscene language, personal attacks of any kind or promotion will be removed and the user banned. Final decision will be at the discretion of the Taipei Times.