CSIST publicizes first locally made 3D metal printer
National Chung-Shan Institute of Science and Technology (CSIST, 國家中山科學研究院) yesterday demonstrated Taiwan's first indigenously developed metal 3D printing system, saying that it hopes to see the technology used in the aerospace and defense industries.
CSIST said it began to develop the system at its research park in Taoyuan last year with help from the Ministry of Economic Affairs and the Ministry of National Defense.
Missile and Rocket Systems Research Division deputy general director Jen Kuo-kang (任國光) said that 3D printing, also known as additive manufacturing (AM), can break through the limits of traditional manufacturing processes and be used in a wide range of areas.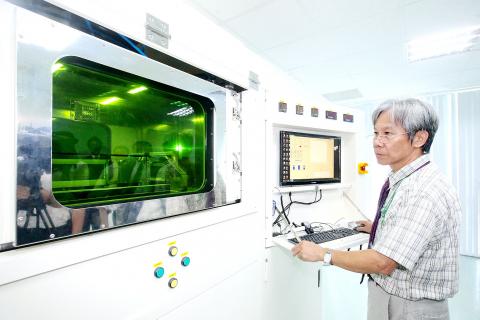 A National Chung-Shan Institute of Science and Technology employee yesterday demonstrates Taiwan's first domestically developed 3D metal printer during a media tour of the institute's research park in Taoyuan.
Photo: CNA
The institute, which is the nation's main weapons research and development center, has developed a 250mm x 250mm metal AM system, which Jen said "can satisfy the needs of the aerospace and defense industries."
The system can help speed up the manufacturing process of metal components and produce products of better quality, he told reporters during a media tour of the research park.
The system would make it possible to manufacture parts for aging military equipment whose original manufacturers have ceased production, Jen said.
Asked if the system could be used to produce components for submarines, Jen said it could.
After the exact material of a component is identified, the institute's staff would be able to make the same item using the system, he added.
The institute is working with National Cheng Kung University in the production of powder materials, the basic element for metal 3D printing, he said.
"We hope this goal will be achieved in six months," he added.
Comments will be moderated. Keep comments relevant to the article. Remarks containing abusive and obscene language, personal attacks of any kind or promotion will be removed and the user banned. Final decision will be at the discretion of the Taipei Times.