Export orders fall 8.3% year-on-year
GLOBAL STRUGGLES: The weak figure increases the odds that Taiwan will report a negative growth rate in export orders this year for the first time since 2009
Export orders fell at a higher-than-expected rate of 8.3 percent year-on-year last month on sluggish demand for consumer electronics products primarily in China, which does not bode well for the nation's economic growth this quarter, statistics released by the Ministry of Economic Affairs yesterday showed.
The outlook for this month is bleak as the decline in export orders is expected to accelerate to a double-digit percentage on an annual basis due to a higher base in September last year and uncertainty over demand for Apple Inc's new iPhone 6S, the ministry said.
"Strong demand for the global brand's new phone helped lift export orders by US$5 billion in September last year, but it is hard to see such a strong boost in light of the small specification upgrade," Department of Statistics Director-General Lin Lee-jen (林麗貞) said.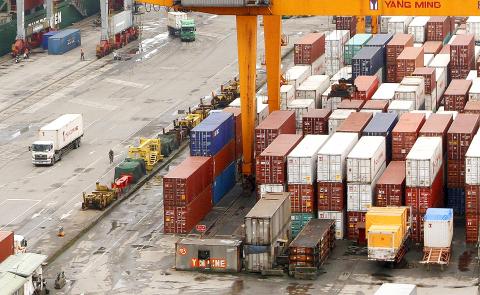 Trucks are driven past containers stacked up at Keelung Port on Feb. 20, 2012.
Photo: Lin Sheng-fa, Reuters
Orders from Apple could add US$3 billion or US$4 billion to the nation's export orders this month, which would be about US$39.03 billion, a 9.88 percent reduction from the US$43.31 billion posted the previous year, the ministry said.
The contraction in export orders last month was the biggest since the global financial crisis in 2008 and 2009, according to the ministry's data.
Last month, export orders fell for a fifth consecutive month to US$35.03 billion, compared with US$38.21 billion the previous year.
The decline exceeded the "market's expectation of a 4.7 percent decline," Australia and New Zealand Banking Group (ANZ) said in a research note issued yesterday.
The "data points to a possible contraction of [Taiwan's] GDP in the third quarter," the bank said.
Due to tumbling exports and export orders, earlier this month ANZ cut its GDP growth forecast to minus-0.27 percent year-on-year this quarter from the 1.65 percent growth it previously forecast.
"The weak export orders data in August are consistent with our new forecast," ANZ said.
The ministry blamed the struggling global economy, China in particularly, for "disappointing" export orders last month.
The weak data increases the odds that Taiwan will report a negative growth rate this year for the first time since 2009, Lin said.
"We originally thought the contraction in August would be at a similar pace [5 percent year-on-year] with July," Lin said. "The weak global economy continues to weigh on consumers' consumption of consumer electronics and on corporate investment."
Slow demand for mobile devices in China and growing competition from Chinese component suppliers cut demand for Taiwanese components such as handset chips, Lin said.
Export orders from China including Hong Kong plunged 14.8 percent year-on-year to US$8.66 billion last month, marking the fastest annual decline in history, the ministry said.
The US is the only bright spot, with export orders up 0.6 percent year-on-year to US$9.48 billion last month, the ministry's data showed.
The decline in orders in all the nation's major export segments was extensive last month, except the information and communications sector.
Orders for information and communications products rose 4.7 percent year-on-year last month, while orders for LCD panels plunged by 22.6 percent year-on-year to US$2.17 billion, the steepest decline since May 2009.
Lin said panel prices have been falling because of weak demand and a supply surplus after Chinese makers ramped up production.
Demand for LCD panels this month looks weak, Lin said, citing a monthly survey conducted by the ministry.
Comments will be moderated. Keep comments relevant to the article. Remarks containing abusive and obscene language, personal attacks of any kind or promotion will be removed and the user banned. Final decision will be at the discretion of the Taipei Times.