CPC Corp, Taiwan and Formosa cut fuel prices
OVERSUPPLY: Concerns over the impact of China's stock market decline, and OPEC members' continued ramping up of production may cause a glut, CPC said
State-run oil refiner CPC Corp, Taiwan (CPC, 中油) yesterday said it would cut gasoline and diesel prices by NT$0.4 per liter, or 2.69 percent, as China's stock rout fuels concerns over the strength of that nation's economic fundamentals and global crude consumption continues to trend downward, while over-supply persists.
The latest price adjustments bring the nation's fuel prices to their lowest levels in about four months. The new prices take effect today.
Global crude oil prices fell 3.88 percent, or US$2.15, to US$53.27 per barrel last week, compared with US$55.42 in the prior week, according to CPC's pricing information.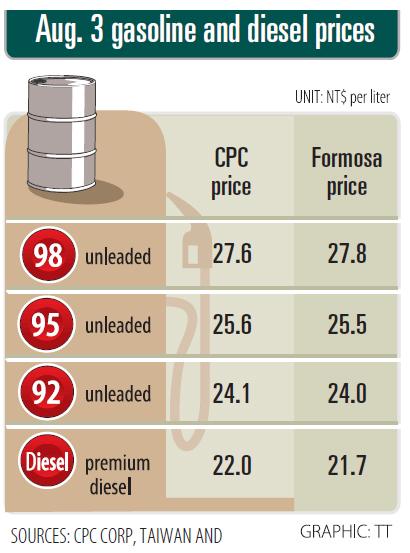 Weak crude consumption in China reflects a stock market plunge, and an expansion in production from OPEC members has increased fears that the market is nearing glut levels, CPC said.
The nation's only privately run oil refiner, Formosa Petrochemical Corp (台塑石化), moved first on Saturday, cutting prices for its 92-octane unleaded gasoline by NT$0.3 per liter, while trimming 95-octane unleaded gasoline and 98-octane unleaded gasoline by NT$0.4 per liter. It cut the price of its diesel by NT$0.5 per liter.
Comments will be moderated. Keep comments relevant to the article. Remarks containing abusive and obscene language, personal attacks of any kind or promotion will be removed and the user banned. Final decision will be at the discretion of the Taipei Times.