Google launches YouTube integrated ads in Taiwan
Google Inc yesterday launched an integrated video network in Taiwan that allows advertisers to display ads on five video-sharing sites for a single fee to help clients increase their marketing efficiency and reduce costs.
"Advertisers only need to pay once and then the Google Video Network could help them expand their ads' reach to more Internet users," Google product marketing manager Teresa Huang (黃寶萱) told a news conference promoting the 10th anniversary of the YouTube Web site.
The integrated network would also help clients to avoid collecting one user's data multiple times, which is a key to reducing marketing expenses, she said.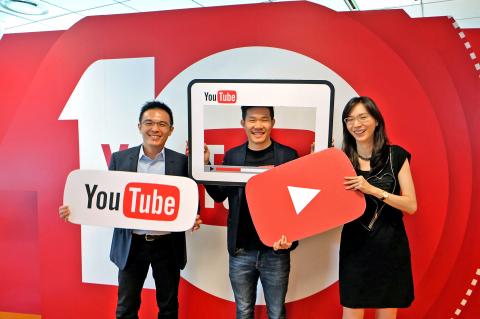 Google Taiwan general manager Stanley Chen, left, YouTube Taiwan strategy partnership manager Chen Wei-po, center and Google Taiwan marketing assistant manager Huang Pao-hsuan hold YouTube signs in Taipei yesterday to celebrate the 10th anniversary of the site.
Photo: Chen Ping-hung, Taipei Times
The video-sharing Web sites that have partnered with YouTube, which is now owned by Google, include the Apple Daily's, Amazon.com Inc's live-streaming platform Twitch, Chinese streaming firm Youku Tudou Inc's (優酷土豆) Youku.com (優酷網) and Tudou.com (土豆網) and Sohu.com Inc's (搜狐) sites, Google said.
Huang said it was important to launch the Google Video Network in Taiwan, as statistics showed that the number of hours people in Taiwan watch YouTube jumped 80 percent annually in the January-to-March quarter this year, outpacing a global growth rate of 60 percent.
According to Google, YouTube attracts 9.3 million unique viewers per month who spend an average of 25 minutes per visit.
Globally, YouTube has more than 1 billion users, Google said.
The statistics suggest that watching videos on video-sharing Web sites is increasingly popular among Taiwanese Internet users, Huang said, adding that the cross-video site service and YouTube's TrueView technology would help clients refine their marketing strategies and target specific consumers.
Google Taiwan general manager Stanley Chen (陳俊廷) said TrueView would display the ads for five seconds and then allow Internet users to choose to carry on watching an ad or stop it.
"The technology is an effective way for clients to catch target audience as only users who are interested in the ads keep watching them," Chen said.
"When there are so many ads displayed in our daily lives, consumers only want to focus on things they are really interested in, so this is a very important way to get their attention and not to waste marketing," Chen said.
Comments will be moderated. Keep comments relevant to the article. Remarks containing abusive and obscene language, personal attacks of any kind or promotion will be removed and the user banned. Final decision will be at the discretion of the Taipei Times.