Airbus edges Boeing at Paris Air Show
ARCHRIVALS: Airbus generated US$57bn of sales for 421 aircraft, while Boeing received orders for 331 planes worth US$50.2bn, but Boeing received more firm orders
Europe's Airbus glided past Boeing to take top honors in their annual competition to sell commercial jets at the Paris Air Show.
However, the US aircraft maker inked more deals for big-ticket wide-body planes.
As the final tally came in on Thursday, the archrivals together booked more than US$107 billion in orders and commitments in the biennial gathering's first four days, when airline executives clink champagne glasses and write huge checks and pilots test high-tech jets overhead.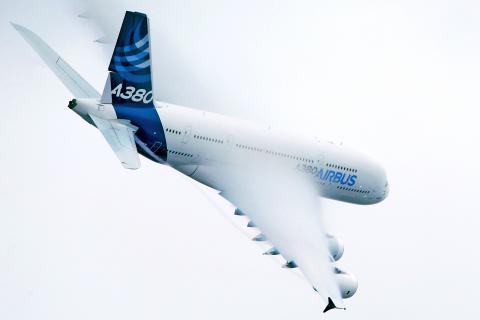 An Airbus A380, the world's largest jetliner, generates a vortex during a flying exhibition at the 51st Paris Air Show at Le Bourget Airport near Paris on Thursday.
Photo: Reuters
Airbus racked up US$57 billion worth of business for 421 aircraft. The announcement of a provisional deal by European low-cost carrier Wizz Air for 110 A321neos — worth more than US$12.5 billion at list prices — put the Toulouse, France-based aircraft maker over the top against Boeing in financial terms. It was the show's single biggest order.
Chicago-based Boeing received orders and commitments for 331 planes worth US$50.2 billion. Its biggest deal was with Dutch leasing company AerCap for 100 737MAX-8 aircraft, worth up to US$10.7 billion at list prices. Customers routinely negotiate discounts off those list prices.
Boeing spokesman Daniel Mosely said the total numbers do not tell the whole story. He said that not counting provisional deals, Boeing did better — firm orders for 145 aircraft, valued at US$18.6 billion, compared with 124 planes worth US$16.3 billion for Airbus.
Boeing was also ahead in selling the more expensive wide-body aircraft, with orders and commitments for 77, compared with 51 for Airbus. Single-aisle aircraft made up the vast majority of business announced at the show.
"By any measure, this is a fairly good air show," Boeing Commercial Airplanes vice president of marketing Randy Tinseth said. "We've seen a deep and broad customer base, and a deep and broad model mix."
All together, the orders are not as many as those booked last year at Britain's Farnborough Air Show, which trades the spotlight with Paris from year to year as the site of Europe's premier aviation event.
Industry watchers have been expecting a more modest haul of orders as airlines pull back from a record-breaking spate of plane buying in recent years. High fuel prices up until a year ago had prompted airlines to invest massively in a new generation of more fuel-economical aircraft, like the Airbus A320neo and the Boeing 737MAX.
Against those lowered expectations, this year's results were nevertheless satisfactory.
"It's been a good show, and not only that, but most of the orders are pretty solid," IHS Jane's aviation analyst Ben Moores said.
Moores said that orders that are not firm do not always materialize fully. Airbus' big order from Wizz Air, for example, was only provisional, a so-called memorandum of understanding that still requires shareholder approval.
The carrier based in Budapest, Hungary, currently has only 61 planes and is expecting 41 more through mid-2018. Its order on Thursday for another 110 to be delivered starting in 2019 would more than triple its fleet in coming years.
Airbus' orders count appeared to surpass its own expectations.
On Tuesday, Airbus chief executive officer Fabrice Bregier had told reporters that he predicted about 200 orders or commitments by the end of the show.
While Airbus executives have forecast high demand for the A380 superjumbo, the company booked no new orders for the massive 500-seat aircraft. The most recent order for the jet was last year.
Boeing forecasts demand for 38,050 aircraft over the next 20 years, and says 26,730 of those would be single-aisle jets. Airbus projects that 32,600 new aircraft worth US$4.9 trillion would be needed by 2034.
Comments will be moderated. Keep comments relevant to the article. Remarks containing abusive and obscene language, personal attacks of any kind or promotion will be removed and the user banned. Final decision will be at the discretion of the Taipei Times.