Smart scooter firm plans Taipei debut
VROOM TO GROW: Taoyuan-based startup Gogoro Inc said that local governments have pledged their support as it aims to build a sustainable electric refueling system
Taiwanese startup Gogoro Inc (睿能創意) plans to launch its first electric "smart scooter," along with a network of battery-swapping stations in Taipei and New Taipei City this summer, the firm said yesterday.
The Taoyuan-based company said Taipei and New Taipei City would be a global example of a more flexible and sustainable electric refueling system.
Gogoro plans to build a complete battery-swapping station network in Taiwan before moving on to other global destinations, company marketing chief Peng Ming-i (彭明義) told reporters on the sidelines of a press conference.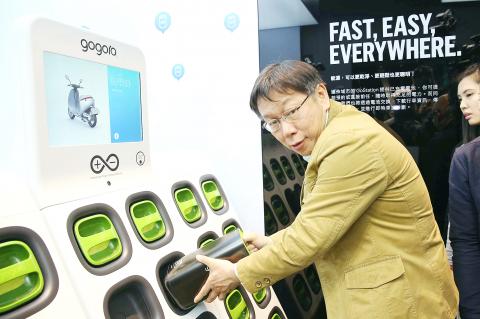 Taipei Mayor Ko Wen-je places a battery in a battery-swapping station at a news conference held by Gogoro Inc in Taipei yesterday to announce its plans to launch its first electric "smart scooter" along with battery-swapping stations in Taipei and New Taipei City this summer.
Photo: CNA
Support from local governments and the Taiwanese market's curiosity about trying new technologies make the two cities a good choice to be Gogoro's pilot market, Peng added.
"We are not just making electric smart scooters. More importantly, we are offering a sustainable energy solution by leveraging the power of connectivity and technology to reinvent how we experience energy in major cities around the world," chief executive and cofounder Horace Luke (陸學森) said.
Luke formerly served as smartphone maker HTC Corp's (宏達電) chief innovative officer.
Peng said the battery-swapping stations — dubbed GoStations — would connect to one another and the scooters via cloud computing, adding that stations with high traffic might be set to charge batteries faster and more frequently by Gogoro, while lower-use stations might wait until late in the night to charge, relieving potential pressure on strained power grids.
"Ideally, Gogoro hopes to build a GoStation for every 2km2 in Taipei and New Taipei City, but the exact number of stations will depend on our funding and available locations," Peng said.
Local governments would help the firm find station locations and charge "reasonable" rent while the company will cover the construction cost itself, Peng added.
Smart scooter buyers will not have to pay for the batteries because riders would rent the power sources at the GoStations, Peng said.
Gogoro yesterday did not disclose the expected price of its smart scooter or its subscription rates, which it said would depend on battery use by riders.
Separately, Peng said the company has fully utilized the US$50 million that it raised in 2011, and is raising US$100 million to continue research and development of electric two-wheeled vehicles.
"The US$1 billion fund is gradually injecting into the company. We also plan to use the fund to build GoStations and on marketing expenses," Peng said.
Comments will be moderated. Keep comments relevant to the article. Remarks containing abusive and obscene language, personal attacks of any kind or promotion will be removed and the user banned. Final decision will be at the discretion of the Taipei Times.