Spotify seeking partners for podcasts to challenge Apple dominance, sources say
Spotify Ltd has held talks with potential content partners to add podcasts to its music-streaming service, challenging Apple Inc in a business it dominates, according to people briefed on the matter.
Spotify, which hosts some podcast-like audio such as Spanish lessons along with millions of songs, plans to add more non-music programming, according to the people, who were not authorized to speak publicly and asked not to be identified. While the discussions have occurred for several months, there is no firm plan or introduction date, one of the people said.
An expansion into areas such as news or comedy would help Spotify broaden its sources of material and reduce its reliance on major record labels, which have sought changes to the streaming product to increase revenue. It would also intensify the brewing competition between Spotify and Apple, which is working on a new subscription streaming service to replace Beats Music.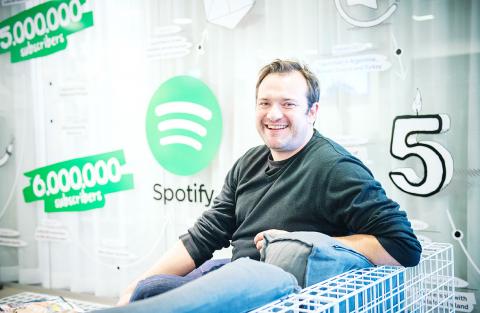 Spotify Europe vice president Jonathan Forster poses for a picture at the company's headquarters in Stockholm, on Feb. 16.
Photo: AFP
Podcasts on Stockholm-based Spotify could include a video component, one of the people said. A customer listening to an audio report could toggle to a full video version, that person said.
Speculation about Spotify's podcast plans surfaced in November last year after TechCrunch.com reported new features uncovered in a developer version of the app. One highlighted podcasts — which would make non-music content easier to find on Spotify — and the other was called "Magic" with no hint of what it was for.
Spotify, available in 58 markets globally, says it has more than 60 million active users and more than 15 million paying subscribers. It has more users than any other subscription streaming music service, though fewer than Pandora Media Inc, the largest online radio service.
Some entertainers have built careers from a single podcast show, such as Marc Maron, the comedian who hosts WTF. Podcasts as a genre earned a lot of press coverage recently due to the popularity of Serial, about a murder trial, created by radio station WBEZ in Chicago.
Apple's iTunes offers hundreds of thousands of podcasts, while Deezer, a Paris-based music streaming service, added more than 35,000 radio shows and podcasts when it acquired Stitcher, a San Francisco-based company.
Comments will be moderated. Keep comments relevant to the article. Remarks containing abusive and obscene language, personal attacks of any kind or promotion will be removed and the user banned. Final decision will be at the discretion of the Taipei Times.