Samsung expects more than 20% market share
Samsung Electronics Co expects its total sales of smartphones, smart devices and tablets to outpace peers in this market next quarter in Taiwan, driven by its new flagship smartphone models, an executive of the company's Taiwan branch said yesterday.
Smartphone sales are set to pick up significantly next month in Taiwan, compared with the traditionally slow season for this quarter, said Andy Tu (杜偉昱), general manager of Samsung Electronics Taiwan's information technology and mobile communication team.
"In addition to the continuing strong sales of our mid and low-tier smartphones and tablets, we are optimistic that the total sales of Samsung products will account for more than 20 percent of Taiwan's total smart devices market next quarter," Tu said at the launch event for the company's Galaxy S6 and Galaxy S6 Edge smartphones.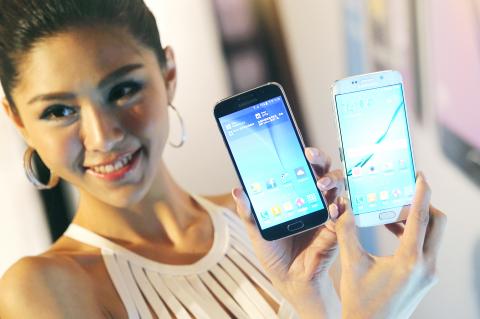 A model poses with Samsung Electronics Co's latest handsets, the Galaxy S6, left, and S6 Edge, at a launch event in Taipei yesterday.
Photo: CNA
Last month, Apple Inc's smartphone shipments topped the local market, followed by HTC Corp (宏達電) and Samsung Electronics, Chinese-language Apple Daily reported, citing industry sources.
Samsung's two new products will officially hit the Taiwan market on April 10, with the S6 32GB model priced at NT$22,900 (US$729.18) and the 64 GB model costing NT$25,900.
The company's curved display Galaxy S6 Edge, which was awarded the "Best New Handset, Tablet or Device" at the annual Mobile World Congress in Barcelona earlier this month, is priced at NT$26,500 for the 32GB model and NT$29,500 for the 64GB device.
The S6 Edge 64GB is the same price as Apple Inc'e iPhone 6 Plus with 64GB storage, according to Samsung.
Tu said the supply for the S6 model in Taiwan will be larger than the S6 Edge in the beginning, but supplies of both the new flagship models to Taiwan are stable, and consumers could "definitely" receive their products on April 10.
"We will request more supply for the S6 Edge from headquarters... There will be no delay in product deliveries," Tu said, adding that he hopes the supply of the S6 Edge will be more than 50 percent of the total S6 and S6 Edge sales after hitting the Taiwanese market next month.
The company will evaluate the sales performance of the S6 and S6 Edge before deciding whether to launch the S6 128GB and S6 Edge 128GB models in Taiwan, he said.
If the S6 Edge 128GB is to enter the Taiwan market, the company said it would cost more than NT$30,000.
Comments will be moderated. Keep comments relevant to the article. Remarks containing abusive and obscene language, personal attacks of any kind or promotion will be removed and the user banned. Final decision will be at the discretion of the Taipei Times.