Aussie shorts reach record as bears join BlackRock in predicting its slide
Investors are the most bearish on record about the Australian dollar as BlackRock Inc, the world's largest money manager, expects the currency to plunge to levels well below what the Reserve Bank of Australia (RBA) prefers.
The Aussie was less than US$0.01 from its weakest in six years amid speculation Reserve Bank of Australia Governor Glenn Stevens will ease monetary policy, while his US Federal Reserve counterpart prepares to raise interest rates.
The greenback reached a 12-year high against the euro before Fed officials meet this week. Aussie bears are only outnumbered by those betting on declines in the shared currency, after the European Central Bank (ECB) set its deposit rate at minus-0.2 percent and started buying bonds.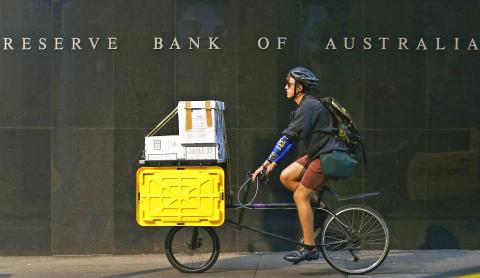 A worker rides his bicycle past the Reserve Bank of Australia building in central Sydney on April 2, 2013.
Photo: Reuters
"Markets are expecting another rate cut by May," said Yuji Saito, director of foreign exchange at Credit Agricole SA in Tokyo. "Stevens said in December he wants the currency down to around US$0.75, so I expect markets to push it below that level at least once."
The Australian dollar gained 0.2 percent to US$0.7656 as of 6:57am in London yesterday. It touched US$0.7561 on Wednesday, the lowest level since May 2009.
The US currency dropped 0.3 percent to US$1.0528 per euro after reaching US$1.0458, its strongest since January 2003.
The RBA said further easing might be appropriate when it left borrowing costs at a record low this month.
The difference between wagers by hedge funds and other large speculators on a decline in the Aussie against the greenback versus those on a gain — known as net shorts — increased to 76,851 in the week through March 10, the most on record, according to the latest data available from the Commodity Futures Trading Commission in Washington.
The Aussie's record shorts last week reflect "concerns about China and expectations for further RBA easing," Kevin Hebner, a New York-based foreign-exchange strategist JPMorgan Chase & Co wrote in a note to clients.
Chinese Premier Li Keqiang (李克強) told reporters on Sunday that policymakers would take action if the nation's growth, which the government targeted at about 7 percent this year, drifts toward the lower limit of its range and cuts into employment or wages. A 7 percent expansion would be the nation's slowest pace since 1990.
BlackRock, which oversees US$4.65 trillion worldwide, said the Aussie might fall to US$0.70.
The net short position in the Australian dollar was the biggest among major currencies after the euro, which has dropped after the ECB introduced negative deposit rates and starting buying bonds to fend off deflationary pressures. Euro shorts increased to a three-week high of 181,073.
The euro may slide further, said Kengo Suzuki, chief currency strategist at Mizuho Securities Co in Tokyo.
"Markets should be prepared to see fresh lows toward parity with the [US] dollar," he said.
Comments will be moderated. Keep comments relevant to the article. Remarks containing abusive and obscene language, personal attacks of any kind or promotion will be removed and the user banned. Final decision will be at the discretion of the Taipei Times.