MediaTek launches recruiting initiative
SCHOOLED SALARIES: In a bid to attract high-quality talent, the firm is offering yearly compensation starting at NT$1 million for employees with a master's degree
MediaTek Inc (聯發科), which designs chips used in smartphones from major Chinese brands including Xiaomi Corp (小米) and Lenovo Group (聯想), yesterday launched a global recruitment program to hire 2,000 new employees to cope with the company's rapidly growing businesses.
MediaTek launched the program at a jobs fair held by National Taiwan University in Taipei yesterday. The program is part of the company's broader efforts to boost its research and development capabilities to prepare for intensifying competition.
"MediaTek has 10,000 employees working in 27 locations in 12 countries. They work in different divisions, including marketing, research and development and customer services," MediaTek chairman Tsai Ming-Kai (蔡明介) said during a speech at the jobs fair.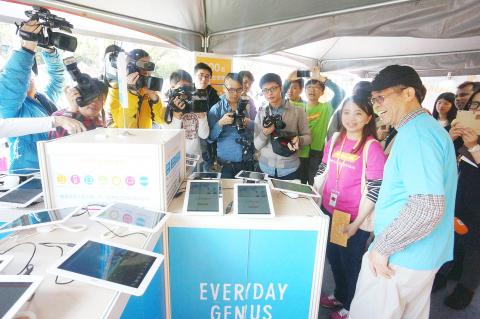 MediaTek Inc chairman Tsai Ming-kai, right, visits his company's booth at a jobs fair at National Taiwan University in Taipei yesterday.
Photo: CNA
"MediaTek offers an environment for employees to learn and grow with world-class talents," Tsai said.
To support the company's strong growth this year and in the longer term, MediaTek plans to boost research and development spending by 20 percent annually this year, as it foresees a need to develop advanced patents for 4G long-term evolution (LTE) technology, the firm said.
MediaTek allocated 20.3 percent of its total revenue for research and development last year, according to statistics released two weeks ago by IC Insights Inc.
Meanwhile, MediaTek aims to double its LTE market share in China to 40 percent this year, taking on larger rival Qualcomm Inc.
"This year will be another year of investment for MediaTek. We will significantly expand research and development resources to accelerate development of new products and new technologies," company president Hsieh Ching-jiang (謝清江) told investors last month.
"We hope to recruit top talent from around the world to broaden our product lines. We also plan to invest on advanced processor manufacturing and cutting-edge technologies," Hsieh said.
MediaTek is broadening its smartphone chip lineup and expanding into new areas, including chips for wearable devices.
With new products in the pipeline and fast-growing LTE chip demand from China, the company aims to grow its revenue by 10 to 20 percent this year from a record-high of NT$213.06 billion (US$6.74 billion) last year.
To entice high-quality potential candidates, MediaTek is offering salaries starting at NT$1 million per year for new employees with a master's degree, and those who have earned their doctorate would receive at least NT$1.5 million per year, the company said. The offerings do not include annual employee bonuses or any other compensation.
The Hsinchu-based company yesterday also launched an internship program for 200 college students from Taiwan and overseas to work as apprentices at MediaTek during the summer vacation.
Comments will be moderated. Keep comments relevant to the article. Remarks containing abusive and obscene language, personal attacks of any kind or promotion will be removed and the user banned. Final decision will be at the discretion of the Taipei Times.