Asus to unveil two new wearables
SECOND WAVE: The firm said it planned to launch two wearable devices next year, and also plans to release the ZenWatch in the US, China and selected parts of Europe
Asustek Computer Inc (華碩), the world's No. 5 PC brand, yesterday said that it plans to introduce two more wearable devices in the second half of next year, seeking to repeat the success of the smartwatch it launched recently in a bid to become one of the world's top three suppliers of wearable devices.
Asustek's ZenWatch has been rolled out ahead of Apple Inc's Apple Watch, which is expected to hit the market early next year.
"ZenWatch is our first wearable device powered by Goolge Inc's Android Wear system," Asustek chief executive Jerry Shen (沈振來) said at a product launch for the local market, following the smart device's overseas debut.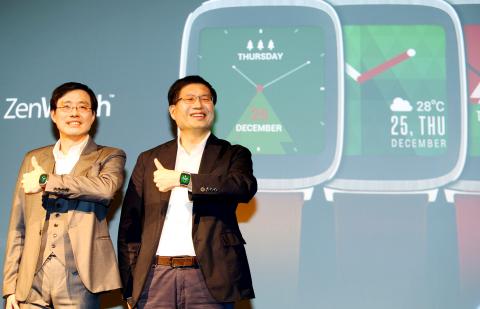 Asustek Computer Inc chief executive Jerry Shen, right, and global vice president Hsu Hsien-yueh display their company's ZenWatch smartwatches at a product launch in Taipei yesterday.
Photo: CNA
Shen said the market reactions to the ZenWatch in the US and Japan have been satisfying. He declined to disclose sales figures.
"Select European countries, China and Hong Kong will be included in the second wave of ZenWatch launches," he added.
The company said that supplies of the smart device are running short in the US and Japan, which Shen attributed to a components shortage.
Asustek only utilizes 50 percent of its 50,000 units-a-month capacity.
The supply shortage could extend to February next year, Shen said.
Despite this, Asustek is planning to launch the second-generation ZenWatch — which has a voice call function and a smart wristband — in the third quarter of next year.
Asustek hopes that the device, which is priced at NT$5,990, gains popularity in the mass market. That figure is almost half of Apple Watch's price tag of at least US$349.
Since smartwatches are the first Internet of Things product with foreseeable growth potential, Asustek will strive to become "a key player" in this sector, Shen said.
The company is to boost ZenWatch production in the second half of next year, either to produce the first-generation models, or the second-generation ones, Shen said.
Separately, Shen said that "the weak yen has not affected the revenue ZenWatch has generated for Asustek because the product was launched in Japan in November and the currency appears to have stopped falling since then."
Asustek's share price closed down 0.88 percent at NT$337 yesterday, underperforming the TAIEX, which gained 0.97 percent.
Comments will be moderated. Keep comments relevant to the article. Remarks containing abusive and obscene language, personal attacks of any kind or promotion will be removed and the user banned. Final decision will be at the discretion of the Taipei Times.